Trip #293 Recap – April 27-30, 2017 – San Juan Islands
Trip #294 – San Juan Islands Trip Recap
Ever wonder what happens on one of our
4-day San Juan Islands escapes
? Now you know what scenic anchorages we took, what amazing food Christine made and what incredible sights we saw along the way with a day-by-day breakdown.
Day 1) 26 April – Bellingham to Sucia Island – Echo Bay anchorage
Nature hike to Fossil Bay with Christine
Saw Bald Eagles, Camus in bloom, Banana Slugs, Pigeon Guillemots, Harlequin Ducks, Saskatoon Berries in Bloom
Baked Sockeye salmon with a honey balsamic finishing sauce for dinner with homemade ice cream for dessert
Day 2) 27 April – Kayaking after a leisurely breakfast, then Echo Bay to Garrison Bay
Lots of Eagles, pigeon guillemots and geese
Creamy Scallop Risotto with Carnaroli Rice, over a bed of spinach, with oyster and shiitake mushrooms and brownies with ice cream for dessert
Day 3) 28 April – Left Garrison after lunch with anchorage in Blind Bay on Shaw Island.
A leisurely morning, spent reading and chatting on the boat and in the new Saloon
Then Hiking at Bell Point and English Camp
Pork tenderloin with black truffle and mushroom pan sauce.
Day 4) 29 April – Blind Bay to Rosario Resort, then a return to Bellingham
Christine's amazing Croissants and Pain au Chocolat
Exploring Rosario Historical Museum in the main mansion.
Whisky crab soup for lunch
Disembarking and fond farewells
From Jeffrey & Christine,
We are super excited to begin our 2017 Northwest Navigation season April 27th! We will be taking a family of seven to the San Juan Islands.
Plus next week we're going to start sending out trip recaps so you can enjoy all our adventures as they happen!
Four days in the San Juan Islands
Early spring is one of my favorite times in the Pacific Northwest. It a time where the wildflowers brighten up the landscape in the already beautiful San Juan Islands, and of course the David B is back out on the water. Our first cruise in 2016 was a 4-day trip that started on April 28th. Within a couple of hours of being underway we came a cross a small pod of killer whales near Point Lawrence on Orcas Island. We stopped and watched the whales for a short while. There were no other boats around and we knew it was a rare treat to get to watch these endangered animals without their usual compliment of boats. Since the whales were going the opposite direction from us we didn't watch them for long, but it felt nice to stop, admire them, and then leave them to continue on their way.
We anchored at Sucia Island and spent the rest of the afternoon on a walk to Fossil Bay. It's one of my favorite spots in the San Juan Islands. I love the trail and looking for fossils. In early spring the icing on the cake is getting to see the wildflowers. My favorites are the Sea Blush which paint the rocky slopes and bluffs of the San Juan Islands a beautiful pink. Later, when we returned to the boat, I made a salmon dinner with pearl couscous, green beans and some sautéed mushrooms for our first night's dinner.
The next morning while I made coffee, I listened to the  lovely dawn chorus of songbirds. After breakfast, we kayaked across Echo Bay to Ewing Cove. A couple of seals cautiously followed us. I like to think that seals have sense of timing when it comes to having their pictures taken. Just when you get your camera ready, they lift their noses to the sky, close their nostrils and slip silently under water.
Later, we raised the anchor and made way for Garrison Bay. In Spieden Channel we got to watch a big Stellers sea lion fishing. When we anchored, I stayed on the boat to make fresh pasta and a creamy spinach pesto for dinner, while everyone else when ashore to tour English Camp.
On the third day of the cruise, we hauled up the anchor and went the short distance to Roche Harbor. We spent a couple hours there, and then got back underway and cruised to Hunter Bay at Lopez Island. We had some pretty amazing weather. It was easily in the mid-70s with lots of sunshine. We anchored in the early evening and had happy hour on deck. I made Butter-Lime Halibut for dinner.
I always try to make the last day of every trip special and part of that is to make my favorite pastries — croissants and pain au chocolat. In the early morning I watched the sunrise from my galley window while I rolled out the croissant dough, and felth the warmth of the wood cookstove take the chill out of the morning air. I shaped
each croissant, and thought about them baking in the oven as I brushed them with milk and cream. I thought about pulling them out of the oven when they are just the right dark golden color. Then I thought about how much each croissant or pain au chocolat would be enjoyed by our guests as they come up from their cabins, one-by-one for a cup of French press coffee and a warm buttery croissant.
To work off the croissants we ate for breakfast, we went for a nice walk on Lopez Island. There wasn't really a destination– just strolling conversation, but we did end up at a small general store. We poked around and read the bulletin board of fliers showing the services, concerts, and goings-on on Lopez before we headed back to the boat.
Just before lunch we got underway and headed back to Bellingham. It was four beautiful days in the islands and a truly wonderful way to begin a new season.
-Christine
Our guests love the David B! Since we only take six guests on the boat per cruise, we work hard to make sure your time onboard the David B is unique, authentic, and special. I think that's what makes our cruises in Alaska, the Inside Passage, and the San Juan Islands, so different from small ships that carry 50 or 60 passengers is that we get the time to know you as a person. On the David B, you are not just another passenger on another trip. We really do care about you and we really do hope you'll join us!
-Christine
The Best Hike on Cypress Island – Eagle Cliff
This story was originally published at CruisingNW.com and can be read there in its entirety. 
Where the skiff meets the beach the sound of hundreds, if not thousands of small-flat weathered rocks clatter and scrape against each other as if in protest of having to move out of the way. I feel the same protest from under my Xtra-Tuf boots as I hop out of the boat and onto Pelican Beach at Cypress Island. The shore, as far as I can tell, is made up entirely of skipping stones, accented by a few large weathered logs. Once again, I think, no pelicans, and to the best of my knowledge few, if any have ever visited here. Maybe someone, some day will tell me the story of how Pelican Beach got its name.
It's always tempting to sit down on a log and mindlessly sort through rocks, or spend the day watching the changing moods of Mount Baker while boats cruise though Bellingham Channel. The reason I continue up the beach is the 1.3 mile hike to the top of Eagle Cliff. It's a moderately strenuous hike, but the effort is rewarded with one of the best views in the San Juan Islands.
Cypress Island is unusual in the San Juan Islands. It's heavily forested and virtually unpopulated. As the fifth largest island in this highly developed archipelago it's remarkable that 91% of the 5500 acres of land on the island is public. Cypress Island is managed by the Washington State Department of Natural Resources (DNR) and most of the land operated as a Natural Resources Conservation Area that's reserved for outdoor recreation like the hike to Eagle Cliff, and the rest is protected as a Natural Area Preserve.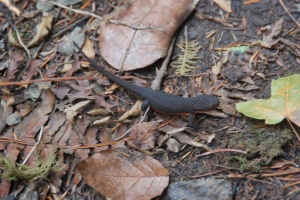 The hike to Eagle Cliff is through a predominantly Douglas fir forest, but there are also Western red cedars, Western hemlocks, and big leaf maples. I look forward to whatever I might find in the forest. My favorite two animals on Cypress are the poisonous rough skinned newt and the banana slug. As I walk the trail…Continue Reading at CruisingNW.Com.
Four Great Days in the San Juan Islands
We just got back from our first trip of the 2014 season. It was a lovely 4-day cruise with wonderful family of six on board. We left Bellingham and motored to Stuart Island. Along the way we found a bunch of Steller's sea lions lazing on Spieden Island's Green Point. They made a few guttural grunts, but otherwise they took little notice of us.
When we arrived at Stuart Island's Reid Harbor, our guests went ashore for a walk to the Stuart Island School House. While they were away, I spent the early evening making a Coq au Vin for dinner and a fresh berry parfait for dessert. While I cooked, I listened to the calls of a family of osprey that nest in the harbor.
The next day we went kayaking and slowly paddled along the shoreline to look for sea stars, crabs, and anything else that we could find. While we paddled, two bald eagles came flying in pursuit of an osprey. It was a little like those World War II dog-fights. The osprey eventually gave the eagles the slip and soon returned to its nest. The eagles flew off to the other side of the island.
After we returned from kayaking, we raised anchor and cruised over to Roche Harbor on San Juan Island. Our guests went for a walk to the McMillian Mausoleum. Jeffrey went up the dock with them and I stayed on board to prepare a special Mother's Day dinner. I noticed that it was taking Jeffrey a long time to return to the boat and I wondered what happened to him. When he returned, I discovered that he joined our guests for an ice cream treat from the Roche Harbor General Store.
Later that night we anchored in Garrison Bay. The highlight for me was watching a bald eagle swoop down from a tree and catch a fish. It then took the fish to the beach and was joined by two patient crows who waited from the eagle's scraps.
On the third day of the trip, we motored back to Roche Harbor. Our guests had arranged for a special side-trip to Zip San Juan  for a zip line adventure. The zip line folks met our guests in Roche Harbor. They were gone for about three hours and when they retured, they raved about how much fun it was to fly through the woods.
We left Roche Harbor and cruised up President Channel to Sucia Island. It was a beautiful sunny afternoon. Once we were anchored, Jeffrey took everyone ashore for some beach combing. When they got back, they reported that they'd seen a family of river otters.
Sometime after I went to bed, the wind picked up a bit. From my cabin below deck, I could hear the wind in the trees and the lapping of tiny wind waves on the hull. I loved the sound and tried to stay awake longer, but soon I fell asleep.
In the morning the wind was still blowing, but I didn't think about it too much because it was Croissant Day. I love making pastries, but I really, really love making croissants and pain au chocolat. After they were out of the oven, they (the croissants) didn't last long.
Once breakfast was finished, we took the kayaks out once more. There were tons of purple sea stars and leather stars. We paddled for almost two hours before returning to the David B.
On our way back to Bellingham one of our guests, an eleven-year old steered the boat with me and Jeffrey. I think he spent most of the way back at the wheel. I enjoyed watching him and answering his questions. It was a fun way to start a new year on the David B.
-Christine
Low tide is one of the best times to kayak at Sucia Island. One sunshine-y fall day I took several of our guests for a paddle along the wind-and-wave-sculpted sandstone that makes up Sucia. My guests were agreeable to a slow paddle where we could inspect the sea life that lives just below the surface. The easiest animals to find were sea stars:  giant pink stars, purple sea stars, sunflower stars, and leather stars. A few of the purple sea stars and leather stars were exposed on the rocks giving us the opportunity to reach out and feel the difference between the two species.
Below our kayaks we watched several types of small fish including a school of bay pipefish that  look like a straightened sea horse. There must of been many other fish in deeper water even though we couldn't see them, since we spotted several seals hunting.
We glided along, talking about the creatures hidden in the rocks and seaweed. We discovered many of them by focusing on the slightest movements or a differences in color. We found chitons, sea urchins, sea anemones, crabs, and two kinds of sea cucumbers — the California sea cucumber and  the orange sea cucumber. We could have spent all day looking and watching the intertidal world and not see it all.
Our paddle lasted about two hours. I was a little reluctant to end our time at Sucia, but it was nearing lunchtime and time to return to the David B. Besides we had other adventures awaiting us.
[pix_dropcap]W[/pix_dropcap]ashington State is lucky to have an incredible system of marine parks. Several in the San Juan Islands. One that I particularly enjoy is Jones Island, a hundred and eighty-eight acre park that has a network of trails running along it's perimeter and across the island. One of the many things that's attractive about Jones Island is that it is only accessible by boat.
Once ashore, I always savor the walk through the forest to the other side of the island. Occasionally I've spotted a pileated woodpecker flying from tree to tree. Douglas Fir, Western red cedar, hemlock and big leaf maple make up most of the forest. There are also many mosses, lichens and fungi and I sometimes get to spend a half hour or longer with my guide books as we wander the paths. The walk opens up to a grassy area where black-tailed deer graze. They are quite friendly and will often let us come close enough to get a good picture. My favorite part of the walk is where the trail begins to skirt the edge of the island. Here, I've learned where to find a native prickly pear cactus. Yes, it's true wet western Washington does have native cactus growing thanks to the rain shadow from the Olympic mountains.  Another interesting native plant is the Garry Oak. There aren't too many of these left in the San Juan Islands and the ones on Jones Islands are fenced off to encourage their renewal.
River otters and harbor seals are also regular visitors to Jones Island. Those of us who live and work near the saltwater can easily forget how interesting and fun these regularly seen animals are to watch. When we spot one it's the highlight of the day. This summer we had a private charter with three generations of women who walked Jones Island with me. We were sitting on some rocks along the trail watching two deer, when two hikers came by and told us about four river otters who were feeding just around the corner. I got up and walked ahead of the group until I noticed a small boil in the water just below a rocky outcrop. The sun made the dried grass atop the outcrop warm and welcoming. I sat down to take some photos. A couple seconds later an otter popped up with crab in it's mouth. The three other otters soon followed. My group caught up to me, and it was heartwarming to watch the excitement about the river otters. We talked for a while about the difference between river otters and sea otters, which we don't see in the San Juan Islands.
I kept up with the otters until they came to a low spot. Cautiously they came onto the island. They stayed close to each other, rubbing their bodies together in braid-like motion. They made warning chirps as they tested the side of the trail. With trepidation they attempted to cross, but a bird flew past them and they retreated. I stood still with my camera. Again they emerged. They wanted to get to the forest and the underbrush of thick-leaved salal. I waited for the otters to make their move. It took several more tries. There was lots of head bobbing and back-leg kicking before they made their break. They scurried across the dirt and root trail; their forepaws low, and their hips high reminded me vaguely of an inchworm. They soon disappeared into the forest. I stood up to listen to them before turning around.
Back at the boat, Jeffrey was almost finished with lunch preparations. I took out my journal and quickly noted all the things we had seen. I've been to Jones Island many times and what I like about it is that there are many things that seem to remain the same, but with each stroll, there's always something new. I'm looking forward to our next walk on Jones.
Serendipity and the David B
A few of years ago we had a couple from Austin, Texas come on the David B for a cruise in the San Juan Islands. Sarah and Rob are both adventurous people and we took a liking to them immediately. Rob and Sarah are interesting for many reasons, but one of the most interesting thing about them is their lifestyle. They are "urban nomads." This means they live lightly and are constantly on the move.
In the spring when we were looking for a house sitter to take care of our cats while we are away in Alaska doing cruises, Sarah and Rob were looking for a place to rebuild their newly purchased RV. Their schedule fit perfectly with ours and we've been feeling lucky to have them taking care of both our house and our cats. Here's Sarah and Rob's story. It was originally published on Sarah's blog.
Nomadic Serendipity
June 20, 2012
Rob said, "The whole reason we moved to the Pacific Northwest was so I can rebuild our RV." Funny, I thought we moved to the PNW when he took a job as an engineer last year. Silly me.
I had asked him about Serendipity at lunch today, because the Technomads recently issued a Serendipity Challenge: http://www.technomadia.com/2012/06/serendipity-challenge-contest/ The challenge asked how being open to opportunities leads to incredible experiences.
Working backwards, I think Rob is right. Serendipity has definitely played a part in our lives over the past four years.
First, we are having a wonderful time this summer because our friends Jeffrey and Christine asked us to house and cat sit while they are in Alaska's inside passage. We met Jeffrey and Christine Smith when we took one of their small ship cruises in 2010. This cruise trip to the San Juan Islands was organized by Chuck Byrd, who was one of the Smith's first passengers when they started their business in 2006. Rob met Chuck, who led a Sierra Club outings leadership training that Rob took in 2008. Rob took this training because when he first moved to Austin, TX he wanted to meet new people.
Secondly, how does this help us rebuild an RV? Well in addition to a cute house in Bellingham,WA with hot and cold running cats Harriett and Oswald, the Smith's have a full-sized wood shop plus a quarter-ton pick-up truck from Christine's former gardening business. I can't imagine rebuilding the RV DIY style in less than twelve weeks without access to storage, tools and a table saw. There is no way Rob could have gotten the materials we needed or disposed of the old RV contents with out that old panel truck.
Two more added bonuses to living in Bellingham are that it has one of the country's best hardware stores and by being a seaside port town, lots of marine supply stores. Hardware Sales is not a store, it is an industrial complex with over four buildings spanning two city blocks. (Take THAT Home Depot and Lowes!) The aisles are narrow and filled from floor to ceiling with tools, hardware and building materials. If they don't have it, you don't need it. No seriously, you don't.
Fortunately there are a lot of cross overs between RV and Marine applications. Often you need it small, efficient and nailed down. Looking for cabinet door catches and the RV store charges an arm and a leg? You can always try the Pacific Marine Exchange looking for "consignment booty".
Finally, the last bit of serendipity is what I call the "mercy firing".
Since he started in mid-May, Rob has been spending eight hours a day five and six days a week working on the RV. The project is that extensive, even with Rob's considerable engineering and building skills. Still, Rob has the time to rebuild the RV because he was let go the Monday before we were supposed to start house sitting. How is that for timing?
A bit more background for those of you without a scorecard about Rob's job. Last year when a head hunter approached Rob, he thought this job would give him a sense of accomplishment by working for an established company with definite projects. Initially it was exciting to be moving to Bellingham, WA because we knew Jeffrey and Christine. They were very helpful offering suggestions about nice places to live. They even let us store our stuff in their shop for a week. (Man that shop is useful!)
Unfortunately that was not to be the case. Legacy products and corporate culture was clamping down hard on his definition of quality engineering. So Rob had already begun planning his exit strategy, but he wanted to rebuild the RV first.
Rob's original plan was to work full-time while working on the RV at night and then give his notice in August. That is when we would start RV'ing full-time. Admittedly I was worried he wouldn't have enough time to rebuild the RV at night. Nor was I looking forward to being a "RV widow", even if he was just 60 feet away in the backyard. Thankfully the company realized Rob's heart just wasn't in the job anymore and let him go.
So through a connection that started four years ago in Austin, TX, we wound up in Bellingham, WA rebuilding an RV practically from scratch and with the time to do it right.  Thanks again Chuck for inviting us on your small ship cruise trip all those years ago. I'm so glad we said yes! I can only imagine that given how our full-time RV lifestyle is starting out that Serendipity will continue to be a force in our lives for many years to come.
Click to follow Sarah Kirkish – Urban Nomad and Business Consultant, or check out Sarah's business Work Life Organization.