Alaska Aboard the David B
If you need a short four-minute vacay, the video below contains highlights from one of our 8-day Alaska cruises where we had, beautiful weather, great hikes, saw amazing wildlife, and we got to visit Dawes glacier on a day where we were treated to some breathtaking calving.
We're taking reservations for 2019. Take 20% off on selected trips in Alaska through Feb 15, 2019. Join us – Special Deals on Cruises.


Alaska Fjords and Pack Creek Bear Vewing
People often ask when's the best time to cruise in Alaska. It's a hard question to answer. I happen to love all the trips we do because every trip is different. Here are some highlights from last year's mid-May Fjords and Bears cruise. It was great fun. We saw lots of different wildlife and had an amazing experience at Pack Creek with the folks from Pack Creek Bear Tours. – Christine
Join us in 2019 for Alaska's Fjords and Pack Creek Bears Cruise. For information on this trip visit our itinerary page or Contact Us with your questions or to book your space.
Drone footage of the David B docking in Bellingham
On our last day of the season, our boat neighbor had his drone out and got some nice footage of the David B coming home.

We're talking about bears on Facebook Live
We tried something new — Facebook Live!
Jeffrey and I thought it would be fun to see what it was like to do a Facebook Live Chat so we could talk about what we do on the David B, where we go, and to answer questions about what our trips are like. It turned out to be a blast. We were joined by lots of familiar people as well as new people. Not only did we get to talk about one of my favorite bear experiences from as summer, but we also got to answer questions about our trips and drinks with glacier ice.
Below is a link to our YouTube account that has the conversation. I hope you enjoy it and stay tuned for more Facebook Live Chats. And if you haven't had a chance to follow the David B on Facebook, here's a link.
-Christine

Time-lapse video of the David B in Endicott Arm
A time-lapse of the David B cruising past icebergs and small islands in Endicott Arm and into Fords Terror on one of our 8-day Alaska cruises.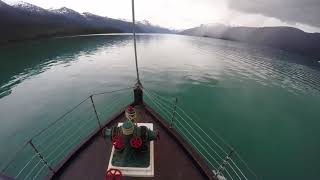 Time-Lapse Endicott Arm to Fords Terror
1/1
Time-Lapse Endicott Arm to Fords Terror

Cruising on board the David B from Endicott Arm to Fords Terror.
Tin Hat Update – Putting on the Hat
We reached a major milestone in the Tin Hat Project this week, we put on the hat.
Early Tuesday morning just in time for sunrise we got underway. It was cold, sunny and beautiful on Bellingham Bay as we moved the David B from our slip in Squalicum Harbor to the Landings at Colony Wharf where a crane was ready to lift the Tin Hat from the shore and place it on the David B. Check out our latest video update to see us driving the David B as a convertible, the Tin Hat being lifted and set in place, and then heading back to our slip.
Thank you to Fluid Fabrication for a great job on the Tin Hat, and thank you to The Landings at Colony Wharf for a such an impressive move!
Now that The Hat is on, we have a lot of work to do to get it outfitted and ready to go for spring! We hope you'll keep following our progress and maybe even come along on a trip with us in Alaska, the Inside Passage or in the San Juan Islands this summer to experience for yourself the new and improved David B!
-Christine
Tin Hat Project Update – Assembling the New Pilothouse
Well, it's been scheduled, the day is almost here, and so long as there aren't any unanticipated problems or bad weather, the Tin Hat will be lifted onto the David B next Tuesday, December 6th! We don't have an exact time yet, but first thing in the morning, we'll be driving the David B to Colony Wharf in Bellingham where the new pilothouse will waiting on a trailer and a crane will be ready to lift the house on to the boat.
If you're interested in watching,we'd love for you to come on down. If you do, park on Roeder Ave in the block between F street and C street or on C street by Hana Teriyaki and walk in since there is a lot of construction going on around Colony Wharf.  It's pretty obvious where to go because there's really only one big crane in the area. Feel free to email me if you need directions.
As the off-season moves along, I'm getting really excited for our upcoming cruises this summer. I can't wait to see people on the boat relaxing in the saloon or watching whales outside under covered decks. It's going to be amazing! Be sure to send Sarah an email or give her a call at 877-670-7863 if you are interested in any of our Alaska, Inside Passage, or San Juan Islands trips this summer or beyond.  2017 is going to be the best year ever!
-Christine
Tin Hat Update – Welding, Windows and More
This week saw lots of progress on the Tin Hat Project. We stopped in at Fluid Fabrication to see how things were taking shape. They'd begun assembling the framework for the front of the pilothouse. It was the first time we got to see the curving lines of the new house for real. We're not sure exactly how long it will take them to finish welding, but my feeling is soon. Maybe just a couple more weeks until we can bring the boat over and have the house put on.
While the welders have been busy, Jeffrey, Tim, and Greg have continued on all of their
projects. Jeffrey's work on the refrigeration system is shaping up nicely, and Tim's been steadily preparing the boat so we can quickly and efficiently install all the systems in the new pilothouse. Greg's been turning out windows and doors all week. Our good friends Pete and Jackie graciously loaned us the use of their garage to set up a varnish shop, and with the help of their daughter Naomi, I got started on the bright work. I also put together a little video for you to enjoy…
-Christine

The ice mountain is well disposed toward you
There's often a cold breeze blowing off the glacier when we arrive to admire it's icy blue front. Wind that can make July feel like January. It plays games with my seasonal clock. I remember one time while watching Dawes glacier, a guest told me he was going to go river rafting in a week when he got home. I gave him a quizzical look. It took me a moment to remember that it was July, and the rest of the North America was enjoying water slides and shaved ice, not icebergs sliding into sea water.
Visiting a tidewater glacier in Alaska is pilgrimage. You go observe something bigger than yourself in nature. It's something you need do. For us, getting to the glacier is part of the journey. It's more than just checking it off as a bucket-list item. On the David B, we are tuned into the rhythm of the glacier and the ebb and flow of the tide as it carries discarded icebergs up and down the fjord. We watch the glacier's ever-changing snout and it's mood. We're aware that the glacier sometimes makes us work hard for our visit by packing the fjord densely with ice shed from its towering face. Sometimes its bergs are enormous – big like a building. Sometimes they are small – like a basketball. Some are white, some are blue, some have dirt and rocks riding along. Some have seals nursing their young. Some are clear and difficult to see. (We call those sneakers.)
Iceberg sizes have official names too. Most of the ice we see in Endicott Arm or Tracy Arm are growlers, less than 1 meter above the water and and less than 5 meters long. We also see lots bergie bits that are up to 4 meters above the water and and 14 meters long. The small and medium

 icebergs, which range in size from 15 meters high to 45 meters high are often floating at the entrance to the fjords. The large and very large icebergs, which top out at over 75 meters high are rare.
Picking our way though the ice is always a challenge, and depending on the mood of the glacier, it can make for a long day. When we travel to a tidewater glacier, we always have two hopes. The first one is that the ice in the fjord will be light and the work of getting there will be easy. The second hope is that when we arrive, the glacier will awaken, and as Captain Tyeen said to John Muir in 1880, when they first saw Dawes Glacier, "The ice mountain is well disposed toward you. He is firing his big guns to welcome you."
This past year we had several good visits to Dawes glacier, the ice was light and the glacier did fire its "big guns," but one day stood out. It was a cool day with a strong wind coming off the glacier. Travel was relatively easy. Jeffrey piloted the David B to about 400 meters from Dawes's formidable blue-white front. The feeling is always the same for me. I feel really small when I'm face to face with Dawes, which towers like a wide-angle skyscraper. At 400 meters, the wind, as if laughing at our smallness, pushed us back away from icy Dawes.  We were the only boat there. Jeffrey re-positioned the David B several times, and each time we faced the glacier again. Our reward came with patience, hot coffee, mittens, and hats. The glacier became well disposed toward us and began to "fire it's big guns".
It started with a cracking and a rushing sound. Ice sloughed off the center-right side dumping a cascade of bergie bits and growlers. It continued and dumped some more, then something big broke, and more bergie bits and maybe even a small or medium iceberg was cast away from Dawes. The sounds and the sight made my heart beat quickly with excitement. Soon the waves arrived with a long low gentle role. We moved in sync with the nearby growlers and bergie bits.
When the show began to slow up, Jeffrey moved us into the wind one more time.  It was time to go. The ice mountain was good to us, other boats were approaching, and a hot bowl of chili and sweet cast-iron-baked cornbread with melting butter was waiting in the galley.
-Christine
New Video – One Boat Two Hearts
Last summer at the Victoria Classic Boat Show we met with Steve Stone from OffCenterHarbor.com who asked if he could do a video shoot of the David B. Someone from the boat show had suggested that the David B's story would be a good one, and so we were introduced.
The next morning Steve came to the boat and videotaped us as we talked about the David B and what it was like to restore the boat as well as what it is like now to cruise in Alaska and the Inside Passage. The video is heartwarming and they did a great job of capturing who we are and what the David B means to us and to our guests. I hope you'll take the time to watch the preview and then sign up with OffCenterHarbor.com to see the entire clip. It might just make you cry — but in a good way.
http://www.offcenterharbor.com/videos/david-b-one-boat-two-hearts/?awt_l=sR7nMY&awt_m=3VggOkPJh644w9k