One of the trips we did last summer was an 8-day cruise in Glacier Bay National Park. It was wild, remote, peaceful, and stunningly beautiful. We put together this little time-lapse video of one of our favorite days from the trip. It was remarkable from our overnight anchorage at Margerie Glacier to a mid-day stop at Lamplough Glacier and then on to Johns Hopkins Glacier. It was a fulfilling day and one that we won't forget.
Time-Lapse into the Back of Fords Terror
Fords Terror is, hands-down, one of our favorite locations. We often anchor there in a bowl that is surrounded by 2000-3000 foot high sheer cliff walls with mature spruce and hemlock trees clinging to the seemingly soilless rock. It's a place where the rain and waterfalls and icebergs create mystical scenes as ravens and eagles fly overhead. Our usual anchorage is amazing, but as always for us, there might be something more just around the corner. At Fords Terror that something more is just on the other side of a narrow constriction and some reversing tidal rapids.
On most trips, we take our guests through the narrows in the skiff. We plan to ride the current in before the tidal floodwater reaches it's highest high for the day and becomes still before the current changes to an outgoing ebb. We typically spend a couple of hours skiffing around, looking at waterfalls, amazing geology, and sometimes even bears. Then, we've always come out on the ebbing current. Jeffrey had always wanted to take the David B into the back, and spend the night. He was curious to see and experience Fords Terror at both high tide and low tide and to see how the back of Fords Terror's beauty changed over the course of a day. It was so magical that we did something we don't often do, we decided to spend, not one night but two nights at anchor there. Below is a short time-lapse video of us going into Fords Terror. We hope you enjoy it.
Winter Project – The Tin Top
We have an exciting winter project this year. We're replacing the roof over the galley and at the same time extending the roof over the back of the boat to give us and our guests a nice new covered fantail where we can enjoy being outside on hot sunny days as well as rainy cool days. The video below is a timelapse of Jeffrey and our winter employee, Tim removing the galley roof.
Alaska Aboard the David B
If you need a short four-minute vacay, the video below contains highlights from one of our 8-day Alaska cruises where we had, beautiful weather, great hikes, saw amazing wildlife, and we got to visit Dawes glacier on a day where we were treated to some breathtaking calving.
We're taking reservations for 2019. Take 20% off on selected trips in Alaska through Feb 15, 2019. Join us – Special Deals on Cruises.


Alaska Fjords and Pack Creek Bear Vewing
People often ask when's the best time to cruise in Alaska. It's a hard question to answer. I happen to love all the trips we do because every trip is different. Here are some highlights from last year's mid-May Fjords and Bears cruise. It was great fun. We saw lots of different wildlife and had an amazing experience at Pack Creek with the folks from Pack Creek Bear Tours. – Christine
Join us in 2019 for Alaska's Fjords and Pack Creek Bears Cruise. For information on this trip visit our itinerary page or Contact Us with your questions or to book your space.
Drone footage of the David B docking in Bellingham
On our last day of the season, our boat neighbor had his drone out and got some nice footage of the David B coming home.

We're talking about bears on Facebook Live
We tried something new — Facebook Live!
Jeffrey and I thought it would be fun to see what it was like to do a Facebook Live Chat so we could talk about what we do on the David B, where we go, and to answer questions about what our trips are like. It turned out to be a blast. We were joined by lots of familiar people as well as new people. Not only did we get to talk about one of my favorite bear experiences from as summer, but we also got to answer questions about our trips and drinks with glacier ice.
Below is a link to our YouTube account that has the conversation. I hope you enjoy it and stay tuned for more Facebook Live Chats. And if you haven't had a chance to follow the David B on Facebook, here's a link.
-Christine

Time-lapse video of the David B in Endicott Arm
A time-lapse of the David B cruising past icebergs and small islands in Endicott Arm and into Fords Terror on one of our 8-day Alaska cruises.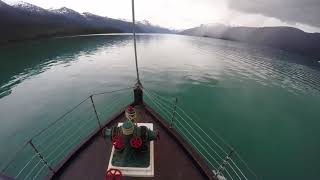 Time-Lapse Endicott Arm to Fords Terror
1/1
Time-Lapse Endicott Arm to Fords Terror

Cruising on board the David B from Endicott Arm to Fords Terror.
Tin Hat Update – Putting on the Hat
We reached a major milestone in the Tin Hat Project this week, we put on the hat.
Early Tuesday morning just in time for sunrise we got underway. It was cold, sunny and beautiful on Bellingham Bay as we moved the David B from our slip in Squalicum Harbor to the Landings at Colony Wharf where a crane was ready to lift the Tin Hat from the shore and place it on the David B. Check out our latest video update to see us driving the David B as a convertible, the Tin Hat being lifted and set in place, and then heading back to our slip.
Thank you to Fluid Fabrication for a great job on the Tin Hat, and thank you to The Landings at Colony Wharf for a such an impressive move!
Now that The Hat is on, we have a lot of work to do to get it outfitted and ready to go for spring! We hope you'll keep following our progress and maybe even come along on a trip with us in Alaska, the Inside Passage or in the San Juan Islands this summer to experience for yourself the new and improved David B!
-Christine
Tin Hat Project Update – Assembling the New Pilothouse
Well, it's been scheduled, the day is almost here, and so long as there aren't any unanticipated problems or bad weather, the Tin Hat will be lifted onto the David B next Tuesday, December 6th! We don't have an exact time yet, but first thing in the morning, we'll be driving the David B to Colony Wharf in Bellingham where the new pilothouse will waiting on a trailer and a crane will be ready to lift the house on to the boat.
If you're interested in watching,we'd love for you to come on down. If you do, park on Roeder Ave in the block between F street and C street or on C street by Hana Teriyaki and walk in since there is a lot of construction going on around Colony Wharf.  It's pretty obvious where to go because there's really only one big crane in the area. Feel free to email me if you need directions.
As the off-season moves along, I'm getting really excited for our upcoming cruises this summer. I can't wait to see people on the boat relaxing in the saloon or watching whales outside under covered decks. It's going to be amazing! Be sure to send Sarah an email or give her a call at 877-670-7863 if you are interested in any of our Alaska, Inside Passage, or San Juan Islands trips this summer or beyond.  2017 is going to be the best year ever!
-Christine