Time-lapse video of the David B in Endicott Arm
A time-lapse of the David B cruising past icebergs and small islands in Endicott Arm and into Fords Terror on one of our 8-day Alaska cruises.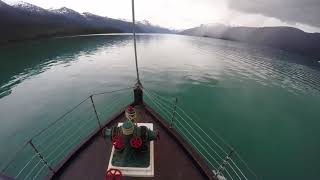 Time-Lapse Endicott Arm to Fords Terror
1/1
Time-Lapse Endicott Arm to Fords Terror

Cruising on board the David B from Endicott Arm to Fords Terror.
Article by our passenger Stacy Shearman on the Inside Passage
We would like to say THANK YOU to Stacy Shearman who wrote a wonderful review of her cruise with us this past summer. Her trip was our Southbound Inside Passage Cruise that began in Ketchikan, Alaska and ended in Bellingham, Washington.
I hope you enjoy!
-Christine
Early Bird Pricing for 2018 Cruises
Early Bird Pricing Ends November 1st
Don't miss out!
---
Calling all early birds! Now's your chance to get an Early Bird discount on almost all of our 2018 cruises. If you book before Nov 1, 2017 you'll get our 2017 prices plus $500 off on our 2018 Alaska Cruises* or $200 off on our 2018 San Juan Islands cruises. If you book now, get the dates you want and save a little cash too!
Find your trip dates on our 2018 & 2019 Schedule here!
Contact Sarah for more information or to make your reservation.
*Please note that early bird pricing does not apply to our Photography or Guest Naturalist Cruises.
Lesson learned from Little Bear
More than anything else, I love to be in places where I can observe animals. For me, every encounter with wildlife is special. Most of the time these encounters are nothing more than a brief glimpse or a snapshot into a creature's daily routine. But each time I observe I learn something new about animal behavior and also about myself.
I find bears especially captivating. I love watching how they move, how they make decisions, how they find food, and where they choose to be. I love watching old bears, and young bears, baby bears, and mama bears. I love watching brown (grizzly) bears and black bears equally.
Some encounters stand out. In July this past summer, it was a was a young brown bear. We'd been watching it through binoculars from the David B the night before. The bear had come down to the beach at low-tide to try its hand (or paw, I should say) at fishing. It was alone and seemed to be new at the solo-life of a bear. We speculated that it had recently been run off by its mother and was trying to remember the techniques it had been taught as a baby bear. The bear was trying to pounce on the fish by running and jumping into the creek with its big paws spread wide.  Each time it came up empty pawed. We watched it for over an hour.
The next morning, the bear, which we affectionately started calling Little Bear, was back on the beach at low-tide. We found it at a different braid of the stream while we were exploring the bay in the skiff. Little Bear was again working on the nuances of fishing, and it appeared it was still coming up empty pawed. Jeffrey kept the skiff offshore in deep water, but close enough that we could watch. Little Bear, strutted around in the water looking for fish. When it found some, it would pounce, and splash, and pounce again.
When it noticed us watching, it ran a short distance along the shoreline with an attitude that suggested we were not welcome to share the fishing hole. Jeffrey backed the skiff. Little Bear was satisfied that we were not a threat, and went back to fishing.
As I've thought about Little Bear this fall, I've come recognized how hard it is for animals to make it. A young bear has a lot of obstacles to overcome. Young bears don't often get the best places to forage for food, or the best territory. Young bears like Little Bear are a lesson in persistence. They have to keep trying to catch those fish, no matter how many times they come up empty pawed. That's what I love about watching wildlife. Life lessons. Lessons that make me smarter, wiser, and more in tune with nature.
As winter sets in, I hope that Little Bear is fat and happy with a big belly full of salmon.
-Christine
PS – If you'd like to have an experience like this, be sure to visit our Alaska pages or simply contact us. Jeffrey and I would love to share moments like this with you.
Photographing the Kittiwakes in Glacier Bay
One day in May we anchored the David B in Tarr Inlet. We were in the middle of our Glacier Bay Photography Cruise. It was a beautiful, clear, sunny day with both the Grand Pacific Glacier and Marjorie Glacier in view. Marjorie had been active. The floating ice that had calved off was scattered all around the inlet. Most of it was of small bits of brash with the largest icebergs about the size of a city bus. On both large and small chunks of ice were little gulls called black-legged kittiwakes — my favorite bird of the moment. Not far from our anchorage there was a cliff with hundreds more, some on nests, some circling in the air, making the cliff face a distant bee-hive of activity.
Several flew past the David B making their distinctive "ki-ti-waak" call. The call is how they got their name. They frequent places like Glacier Bay to nest during the summer months then spend their winters off-shore.
Not long after the anchor was down we all got into the skiff with our cameras and favorite lenses to skiff over to Marjorie Glacier. On the way we made a special side trip to the cliff with the kittiwakes. With our lenses pointed up and with stiff necks, we shot photos. From my sea-level vantage some of their nests seem to cling precariously to the cliff. We listened to the chatty colony. In the skiff, we were lost in our own photos, watching, listening and concentrating on our own individual birds. We checked exposures, and asked the instructors questions while we took in the dramas that were unfolding in front of us. There was the thrill of wondering what was going to happen next.
Occasionally two kittiwakes would engage in an aerial dogfight. The combatants would lock beaks and come tumbling and cartwheeling out of the sky, sometimes hitting the ground or water, or even tumbling down the cliff and landing in the fjord. At one point a bald eagle flew towards the colony. Would the eagle steal a chick, or would it just perch? How would the colony respond? We trained our lenses, and talked about what was happening. The eagle circled a few times, to the great displeasure of the kittiwakes. Their cries were almost deafening, then finally it perched on a ledge away from the colony. It kept to itself and sadly was too distant for a good picture even with my zoom.
With all the excitement, I kind of lost track of time, so I'm not sure how long we spent at the cliff before moving on to Margarie Glacier, but it long enough that we got to enjoy watching, photographing, and chronicling a tiny snapshot of life in a black-legged kittiwake colony. I came away with a deeper love for these birds and the lives they live, and I'm sure the others in the skiff with me came away with their own interpretations and appreciations.
As I go through my photos from this year's Glacier Bay Photography Cruise I can't help but feel the growing excitement that we'll be back again next spring for two more Photography Cruises in Alaska with instructors John D'onofrio and Alan Sanders. One in Glacier Bay and the other in Tracy Arm / Fords Terror Wilderness and the Admiralty Island / Kootznoowoo wilderness. I'm excited because it's a chance to get out in the wilderness, use my camera, see nature, and learn more about taking better pictures. If you'd like to know more, visit our Glacier Bay Photography and Alaska Photography pages and our schedule page for dates and availability, or contact us.
-Christine
New Glacier Bay Photography Cruise
This is really exciting! We are teaming up with AdventuresNW Magazine editor John D'Onofrio, and Quicksliver Photo Lab's Digital Imaging Specialist and instructor, Alan Sanders for an 8-Day Photography Cruise in Glacier Bay.We've been working with John and Alan over the last several months to develop a special cruise for photographers that combines all the excitement of our Alaska trips with hands-on intensive instruction, new techniques for photography, and nightly constructive critique sessions.
If you've been on the David B before, you know I'm a complete and total Shutter Bug and having a chance to have two great instructors aboard the David B makes me absolutely giddy! I'm looking forward to this trip as a way to share the beauty and magnificence of Glacier Bay with you, as well as, having the opportunity to learn a whole lot more about how to take great photographs!
If you'd like to join us on this special cruise, visit our website for more information or give Sarah a call at 877-670-7863 or send her an email.
Glacier Bay Photography Cruise
Trip Number: 295
Dates: May 22-29, 2017
Boards/Returns: Auke Bay (Juneau)
Rates Per Person: $5600 (Special Introductory Pricing – $300 off 2017 rates!)
In the meantime, please enjoy the little video below I made from a trip we did last summer to Glacier Bay with Captain Jeffrey's family and a couple of our good friends.
Fair Winds,
Christine
Tin Hat Update – Putting on the Hat
We reached a major milestone in the Tin Hat Project this week, we put on the hat.
Early Tuesday morning just in time for sunrise we got underway. It was cold, sunny and beautiful on Bellingham Bay as we moved the David B from our slip in Squalicum Harbor to the Landings at Colony Wharf where a crane was ready to lift the Tin Hat from the shore and place it on the David B. Check out our latest video update to see us driving the David B as a convertible, the Tin Hat being lifted and set in place, and then heading back to our slip.
Thank you to Fluid Fabrication for a great job on the Tin Hat, and thank you to The Landings at Colony Wharf for a such an impressive move!
Now that The Hat is on, we have a lot of work to do to get it outfitted and ready to go for spring! We hope you'll keep following our progress and maybe even come along on a trip with us in Alaska, the Inside Passage or in the San Juan Islands this summer to experience for yourself the new and improved David B!
-Christine
Tin Hat Project Update – Assembling the New Pilothouse
Well, it's been scheduled, the day is almost here, and so long as there aren't any unanticipated problems or bad weather, the Tin Hat will be lifted onto the David B next Tuesday, December 6th! We don't have an exact time yet, but first thing in the morning, we'll be driving the David B to Colony Wharf in Bellingham where the new pilothouse will waiting on a trailer and a crane will be ready to lift the house on to the boat.
If you're interested in watching,we'd love for you to come on down. If you do, park on Roeder Ave in the block between F street and C street or on C street by Hana Teriyaki and walk in since there is a lot of construction going on around Colony Wharf.  It's pretty obvious where to go because there's really only one big crane in the area. Feel free to email me if you need directions.
As the off-season moves along, I'm getting really excited for our upcoming cruises this summer. I can't wait to see people on the boat relaxing in the saloon or watching whales outside under covered decks. It's going to be amazing! Be sure to send Sarah an email or give her a call at 877-670-7863 if you are interested in any of our Alaska, Inside Passage, or San Juan Islands trips this summer or beyond.  2017 is going to be the best year ever!
-Christine
Dalls porpoises riding on the David B's Bow
Something I look forward to every year when we are running trips on the David B are the occasional visits by Dalls porpoises. These mid-sized sea mammals that looks deceptively like baby killer whales love to surf bow wakes. We often see them in the Inside Passage and Alaska. Usually they are foraging for fish, but sometimes, they turn their attention to the David B. It begins with seeing their characteristic rooter-tail splashing a ways off, and with surprising speed, they soon rush up alongside of the boat, and then they begin jockeying for the prime spot just in front of the boat's stem. It's a thrill to watch their speed and their agility.
Here's a little complication of a few of the amazing experiences we've had with surfing Dalls porpoises.
Bowriders on the David B
Dalls porpoises are common visitors to the David B when we are underway in the Inside Passage or Alaska
1/1
Tin Hat Update – Welding, Windows and More
This week saw lots of progress on the Tin Hat Project. We stopped in at Fluid Fabrication to see how things were taking shape. They'd begun assembling the framework for the front of the pilothouse. It was the first time we got to see the curving lines of the new house for real. We're not sure exactly how long it will take them to finish welding, but my feeling is soon. Maybe just a couple more weeks until we can bring the boat over and have the house put on.
While the welders have been busy, Jeffrey, Tim, and Greg have continued on all of their
projects. Jeffrey's work on the refrigeration system is shaping up nicely, and Tim's been steadily preparing the boat so we can quickly and efficiently install all the systems in the new pilothouse. Greg's been turning out windows and doors all week. Our good friends Pete and Jackie graciously loaned us the use of their garage to set up a varnish shop, and with the help of their daughter Naomi, I got started on the bright work. I also put together a little video for you to enjoy…
-Christine