One of the most thrilling things we get to do on our cruises is to wait and watch for glaciers to calve. Just when you think it's time to go and you'll be disappointed that you didn't see anything big, the glacier answers with a thunderous crack and an enormous splash.
We watched this old bear at Pack Creek on Alaska's Admiralty Island in the spring. She's thirtysomething and walks with a deep limp from a broken leg now healed. Her nose was once broken and sits askew. Even as she digs clams with mud clinging to her aged fur, I can't help but think she's the most beautiful animal I've ever seen.
RE: Your Dad is coming home, I've met someone and I'm staying on in Alaska
Laurie can't ever get her kids to read her emails. It doesn't matter if the message is important or mundane, they just won't open them, so she's had to resort to click bait. The crazier she can make the subject line, the more likely they are to open it.
She and her husband were just on a trip with us in Alaska. We had an amazing time, got to see brown bears very close up. One even wandered by us about 30 feet away, then stopped to munch on grass for almost ten minutes. Then we spent three days in the fjords watching glaciers, and going for hikes, kayaks and skiff rides in magical places.
Laurie wanted to do more – see more places, go for more hikes, see more glaciers. Luckily for her we had space on our next trip, which (also luckily for her) was to Glacier Bay National Park.
Rose was also on the trip. She had come to Alaska hoping to do our trip, then find someone who could guide her on a kayak trip in Glacier Bay, but it was too early in the season for most of the tour and guiding operators. She had decided to go home after the trip with us.
Then they started asking about the next trip. "What do we do in Glacier Bay? What wildlife would we see? Was there space available on the trip?"
Laurie and Rose had become great friends in the eight days of the trip. From day one they had been sharing stories and becoming fast friends. This is the stuff our trips are made of. They quickly had become BFFs. We did have space. They wanted to go.
When we arrived in Juneau we worked out all the details. Laurie's husband had commitments at home, and their schedules wouldn't let them go for the whole trip, so I arranged for a float plane to meet us and pick them up 4 days into the trip. It was all set up.
All they had to do was let their families know…
RE: Your Dad is coming home, I've met someone and I'm staying on in Alaska
Get to know John and Al our photography workshop instructors
On Saturday we sat down around the settee on the David B for a chat about what it's like to go on one of our photography workshops. It was a fun, light-hearted chat about the highlight's from last year's Glacier Bay workshop, John and Al's background in photography, and what we're excited about for this coming season's workshops.
You don't have to be an expert photographer to come on these trips. All you need is a love of nature, the desire to take great pictures and to have fun. You can watch the video in its entirety below.
Visit our Alaska Photography Workshops page for more information, dates, rates, and availability.
We're talking about bears on Facebook Live
We tried something new — Facebook Live!
Jeffrey and I thought it would be fun to see what it was like to do a Facebook Live Chat so we could talk about what we do on the David B, where we go, and to answer questions about what our trips are like. It turned out to be a blast. We were joined by lots of familiar people as well as new people. Not only did we get to talk about one of my favorite bear experiences from as summer, but we also got to answer questions about our trips and drinks with glacier ice.
Below is a link to our YouTube account that has the conversation. I hope you enjoy it and stay tuned for more Facebook Live Chats. And if you haven't had a chance to follow the David B on Facebook, here's a link.
-Christine

Dreaming In Glacier Bay – Adventures NW Magazine
Jeffrey and Christine on KVRS Radio – Lafayette
Jeffrey and Christine were recently in Lafayette, Louisiana to give a talk about the David B and cruising in Alaska, as well as to have a little downtime and to eat as much cajun food as humanly possible before the 2018 boating season begins. One of the highlights of their time in Lafayette was being interviewed on KRVS radio. Follow the link before to listen to Jeffrey and Christine talk about the restoring the David B as well as what they enjoy most about being in Alaska.
http://krvs.org/post/apres-midi-afternoon-classics-february-22-2018
I keep a little journal and I thought you might like to see what I wrote about. I titled it Epic Glacier Day
May 26 – 0544  Epic Glacier Day:
woke up in front of Reid Glacier.
Actually, Epic Glacier Day (EGD) really started the day before when we dropped anchor and spent several hours ashore at Reid glacier's snout taking pictures as part of our photography workshop cruise. EGD started by waking up anchored face to face with a massive glacier. As I prepared coffee and breakfast, I occasionally walked outside to stare at the glacier and to listen to the sounds of the glacier's rushing meltwater streams and waterfalls. The water sounds would occasionally be interrupted by the calls of some of my favorite birds – black oystercatchers. Although small bits of ice floated in the inlet, this glacier no longer calves big icebergs into the water. It has retreated to rest on a mudflat, and high tides now only kiss Reid's wide icy snout.
went to Johns Hopkins then Margerie
We made a stop at Lamplough Glacier, which sits like a watchdog to the entrance of Johns Hopkins Inlet. The sky had cleared to a bright blue. We paid our respects to Lamplough and entered Johns Hopkins Inlet for a view of Johns Hopkins Glacier as it spilled into the inlet from the impossibly high and jagged Fairweather Mountains. After witnessing an enormous avalanche spill onto the glacier, we turned to continue EGD with our fourth and fifth glaciers – Margerie and the Grand Pacific.
spent a couple hours at Margerie in the skiff
We anchored in Tarr Inlet about a mile away from Margerie. It had recently been active. Small bergs and brash ice floated past our anchorage. Hundreds of black-legged kittiwakes were nesting about a half-mile away. Margerie glacier is beautifully showy with the whitest ice and actively calving. The Grand Pacific seems shy and more sedentary. It's covered in a blanket of dirt and rock, and seldom calves. It seems content to let Margerie have all the attention.
We lowered the skiff for the best part of EGD — a ride to the face of an active tidewater glacier.
a humpback surfaced next to the David B at anchor
Not long after we got the skiff in the water a humpback whale entered Tarr Inlet. I surfaced twice nearby the David B, and one of the surfacings was really close to the skiff.
-6-10 sea otters on icebergs
We kept our cameras and our focus on Margerie. We waited to capture the moment that a tower of ice would fall into the water. We made bets on where ice would fall from, and we held hopes that a big one would let loose.
While watching the glacier, a group of sea otters swam along the floating ice, and an eagle landed on the great face of the glacier. No visible part of Margerie was left unphotographed. Every peak, every icy spire, every kittiwake, and every iceberg was part of this magical landscape. I felt the need to absorb it all. To capture every sight, every sound, every emotion. To hold on to this moment for as long as possible. I wanted
to wrap it all up, take it home, and share it with anyone who needed a good dose of Mother Nature.
I didn't write anymore but we remained anchored in Tarr Inlet that night. I remember that from time-to-time we could hear the boom of ice calving off Margerie, the sounds of the kittiwake colony, and the silence of nature. Magnificent mountains surrounded us. The sun dipped behind the peaks, and again another boom and more ice would be spilled.
It was the perfect Epic Glacier Day.                                                                                      
-Christine
Time-lapse video of the David B in Endicott Arm
A time-lapse of the David B cruising past icebergs and small islands in Endicott Arm and into Fords Terror on one of our 8-day Alaska cruises.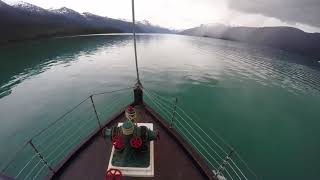 Time-Lapse Endicott Arm to Fords Terror
1/1
Time-Lapse Endicott Arm to Fords Terror

Cruising on board the David B from Endicott Arm to Fords Terror.
Early Bird Pricing for 2018 Cruises
Early Bird Pricing Ends November 1st
Don't miss out!
---
Calling all early birds! Now's your chance to get an Early Bird discount on almost all of our 2018 cruises. If you book before Nov 1, 2017 you'll get our 2017 prices plus $500 off on our 2018 Alaska Cruises* or $200 off on our 2018 San Juan Islands cruises. If you book now, get the dates you want and save a little cash too!
Find your trip dates on our 2018 & 2019 Schedule here!
Contact Sarah for more information or to make your reservation.
*Please note that early bird pricing does not apply to our Photography or Guest Naturalist Cruises.