Alaska Trips Not Affected by Ban
PRESS RELEASE:
Northwest Navigation Company's Motor Vessel David B Alaska Cruises Unaffected by Canada's Cruise Ship Ban
BELLINGHAM, Wash., Feb. 17, 2021 (SEND2PRESS NEWSWIRE) — Northwest Navigation Co., which operates the small cruise boat, M/V David B in Alaska, is unaffected by Canada's recent extended cruise ship ban for the summer of 2021. The company will still be offering multi-day cruises this summer, as are a number of small US-flagged Alaska boutique cruises, yacht charters, and niche market adventure cruises that specialize in remote wilderness small group tours.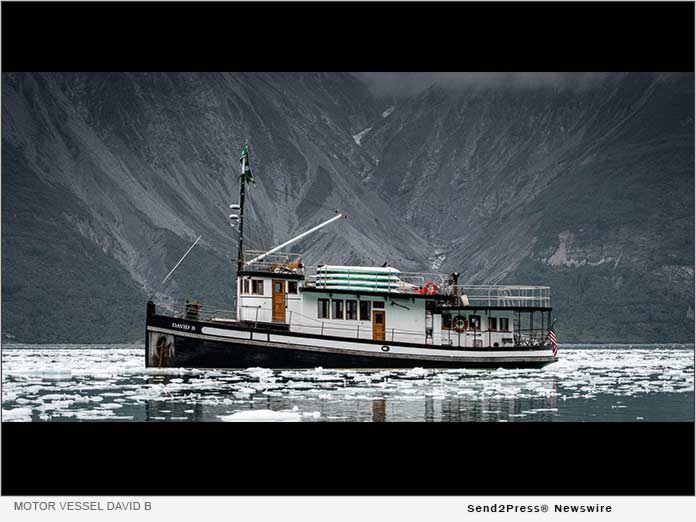 Canada's ban on cruise ships with over 100 passengers may force major cruise lines that are registered in countries outside of the United States to cancel their Alaska sailings due to laws that require those ships to stop in countries outside the United States. As one of several small US-flagged vessels that operate with 12 or fewer passengers, the David B is unaffected by Canada's ban and will be able to continue regularly scheduled operations in southeast Alaska.
"Most people are not aware that there is a class of small American boats which run tours in Alaska," says Christine Smith who's the co-owner, chef, and naturalist aboard the David B. "Boats like ours are unique, for example, we have a maximum of just eight passengers. Some of our closest competitors carry only 10 or 12. The boats are big enough that we've always given people plenty of space. There's never been a good name for our niche, but some people call us a micro-cruise, boutique cruise, small boat or small ship cruise. We offer light impact eco-tours that are more on the adventure side of Alaska cruises. We focus on being in nature and visit wilderness locations for our anchorages, hikes, and kayaking excursions."
If Canada continues with its ban on cruise ships, Alaska's economy will be adversely affected. A recent article in the Washington Post noted that only 48 passengers cruised Alaska in 2020. "We operated last summer too, but because of our small size I don't think our passengers were even included in the tally," Christine said. "We're a very niche market. You really have to look to find boats like ours. But for the people who do find us this year, they'll see a quieter Alaska, even if the large cruise ships find a way around Canada's ban."
For more information about Northwest Navigation visit: https://northwestnavigation.com/
About Northwest Navigation Co.:
Northwest Navigation Co. is based in Bellingham, Washington, and owns and operates the Motor Vessel David B. Since 2006 Northwest Navigation has offered multi-day, small boat tours in Alaska and Washington state. The David B is an historic 65-foot boat originally built for Alaska's salmon fishing industry in 1929. Jeffrey and Christine Smith started Northwest Navigation in 1998 with the purchase and restoration of the David B.
Vessel Image 72dpi: https://northwestnavigation.com/wp-content/uploads/2021/02/David-B-Image-72-dpi-scaled.jpg
Logo 72dpi: https://tinyurl.com/nwnav-logo
MEDIA CONTACT
Sarah Kirkish
Office Manager/Reservations Specialist
360-474-7218
sarah@northwestnavigation.com
News Source: Northwest Navigation Co
As another week passes, and the outside news gets crazier and crazier, with travel bans at the forefront, and big cruise lines canceling, we continue to evaluate how our summer is shaping up.
As a captain, I feel like this is very similar to how I plan for weather and storms. There's a lot at stake. Every day I make multiple decisions about the voyage, the vessel, the weather, the guests, the crew. It's what I've been doing for 29 years as a captain. I'm continually checking and updating my decisions, and trying to use as much new information as I can. One of the biggest hurdles is to avoid weighing one's prior decisions over new facts. Just because it was forecast to be calm when I left the dock doesn't mean that continuing into big seas makes sense.  Checking and rechecking myself doesn't make me wishy-washy; it's how to make safe decisions.
I make a lot of decisions by playing out the consequences in my head and thinking about how I would explain it afterward if it didn't go well. It's part of my training and experience. If I can finish the sentence that begins with "Well, your honor, the reason I was doing that was because…" in a way that seems plausible, it's probably not such a bad idea. I use a risk/reward model as well. In this case, the reward (the grandeur of Alaska) is high and the risk is still low.
At this point, like before, we're still operating as if our summer is going to go as planned. Right now, I still feel like it's safe. Each new piece of news or information makes me re-evaluate the decision and each time I come back to the same decision: We're still going unless it becomes unsafe or impossible for our guests, our boat or us.
In a lot of ways, I feel like this decision is like all the nautical decisions I've made in my career. It takes a lot of thought, a lot of hand wringing and a lot of worry. There are big stakes. I feel like I've been training my whole life to make this decision.
 We're still going. Things may change. I'll reevaluate then.
Captain Jeffrey
Dreaming In Glacier Bay – Adventures NW Magazine
Jeffrey and Christine on KVRS Radio – Lafayette
Jeffrey and Christine were recently in Lafayette, Louisiana to give a talk about the David B and cruising in Alaska, as well as to have a little downtime and to eat as much cajun food as humanly possible before the 2018 boating season begins. One of the highlights of their time in Lafayette was being interviewed on KRVS radio. Follow the link before to listen to Jeffrey and Christine talk about the restoring the David B as well as what they enjoy most about being in Alaska.
http://krvs.org/post/apres-midi-afternoon-classics-february-22-2018
Seattle Boat Show – Christine's talk for the Women's Day Panel
Every year at the Seattle Boat Show there is a special Women's Day which celebrates women on the water and encourages women to be involved in boating. This year Christine was asked to be part of a panel of women who have found their strength in boating. Below is the text of the speech she gave.
Here's a nice article in 48 North Magazine about the talks given. https://48north.com/2018/02/08/beyond-fun/
Finding my strength in boating
By Christine Smith
Picture this.
It's 5 am.
 I'm at work. I'm the only one up. My job is a combination of chef, naturalist, deckhand, and jr. engineer aboard the David B. We're at anchor in Tarr Inlet, Glacier Bay, Alaska. The sky is a blue-ish purple. The water a perfect reflection. We're sharing our anchorage with two tidewater glaciers — Margerie and the Grand Pacific. Even though the sun has been up for more than an hour, the high peaks to the east still cast a shadow over the anchorage. Black-legged kittiwakes are drifting past the boat on floes of ice.  The air is chill, and a light dew is forming on deck. I'm working in the galley with the door open so I can listen to the kittiwakes, and to the fire crackling in the woodstove. I slip off my shoes. I want to be quiet. I hate to be the one who disturbs the morning. Stepping out on to the deck I feel the coolness of the dew seeping through my socks. I take a deep breath through my nose and my lungs expand as I breath in the clean crisp, mineral-earthy smell of Tarr Inlet. Suddenly Margarie glacier rumbles, breaking the silence and sending ice cascading into the mirror perfect water. The nearby colony of kittiwakes raise their collective voices and become the foreground of my soundscape.
This is now my everyday life, but it wasn't always that way. It took years and a lot of chance, opportunity, determination, but mostly the willingness to learn.
I often think my journey to working on a boat started in 1996 when I met my husband, Jeffrey. But, really it started when I was a child with my love of learning. It started with my grandparents taking me on nature walks. They taught me about frogs, beavers, and woodpeckers. They showed me trees and wildflowers. I was 11 or 12 when I encountered my first black bear and because of my grandfather, I already knew to respect the bear, but not fear it.
My path also started with my aunt who own her own dump truck. I saw her strength as a woman working in a male-dominated industry, and her ability to work big machinery. I saw her determination to be a professional. By watching her actions, I broadened my horizons. If she could do anything, I could too.
Through my parents, I learned how to see. It was from their love of photography, that I learned to look for the beauty of nature. I learned to look for rare moments. I learned capture images for myself, and for others. I learned to tell a story through an instant in time. My early teachers helped to shape my interests, and by chance, these interests eventually lead to boats.
In my 20s, I daydreamed about owning a bed and breakfast in the San Juans. At that time I only had a daydream and a low paying receptionist job and no commitment to a plan for my future.
When I met Jeffrey something changed – It wasn't my low paying job. What changed was my commitment to a plan – starting charter boat business.  By making that commitment, I had my big chance to create my dream job – a job that encompassed all my favorite things. The only catch was, I didn't know anything about boats or boating. But I wasn't going to let a little thing like something I could learn get in the way of that job.
Jeffrey and I decided that the best way for two people without much money to get into the business would be to find an inexpensive old boat to fix up. Because Jeffrey had years of experience working on and around boats, I was willing to trust him with decisions about what would work best for us. He was also willing to be my mentor.
In 1998, we bought the David B, a rustic old wooden boat built in 1929. Through my eyes it looked like all it really needed was a little sanding and some paint. Before we purchased the boat, we discussed what the steps would need to be taken to rejuvenate the David B. Jeffrey also talked with me about the boat's engine, and what a cool find it was. It is an antique, made by Washington Iron Works and was the David B's original.  We agreed that it would probably take two years before we were up and running.
In that first year, I discovered a whole new world. Boat lingo, boat woodworking, new kinds of tools. I also got to revisit my old insecurities about math, algebra, and geometry.
I took a woodwork class. I read books on wooden boats, boat construction, boat fasteners, boat history, boat everything. Some of the knowledge stuck, a lot of it, didn't seem to stick at the time, but later on something would come up and I'd remember reading about how to caulk a wooden boat with cotton and oakum or what fasteners were used on some boat built on Lake Union.
At times this desire to run a boat frustrated and discouraged me. Two years passed, and we had hardly made any forward progress.
Our estimation of two years turned in the 3, then 4, then 5, 6, 7, then 8.  The boat and the dream seem seemed to be slipping away. In spite of dedicating all my spare time and money to working on the boat, there just didn't seem to be enough time or money to complete the project.
In 2001 while we struggled with rebuilding David B, I got my first job working on a boat. I was a deckhand on a passenger boat. Even though I was planning to operate my own boat, I actually hadn't spent any time on the water. I didn't know how to tie up a boat, or what knots to use. I had learned a lot of boating terminology but didn't have any actual experience. The night before I started my deckhand job, I confessed to Jeffrey that I was nervous about not knowing basic boating skills. He puzzled for a moment, then got up found a tiny cleat and a running shoe. We practiced tying up using the shoe as the boat and the shoelaces as lines.
Working on the passenger boat re-inspired my desire to finish the David B. I loved getting to see how a passenger boat was operated, and visualizing what it would be like to run the David B.
The big day came in 2006 when we officially started running the David B as a charter boat. I was excited, it was something I had trained for and imagined for 8-years. On our way to Juneau I got my first chance for a wheel watch. We were in Johnstone Strait at Current Pass. If you haven't been there, it has a lot of current and a lot of traffic. I was nervous about driving on my own. I knew that I had l come along way since we bought the David B. I had learned how to read charts, I knew how the chart-plotter worked. I was familiar with the radio in case there was traffic. Before I took the wheel, I asked questions about Current Pass, and how I should best navigate. My nerves calmed as I watched out the window, checked the chart plotter, and kept the David B on course.
For three years we operated the David B. Everything was going perfectly until the winter of 2008.
I mentioned earlier, the David B has a very special antique engine. We did all of our usual engine prep for winter. Our only mistake was we forgot to double check that all the water in the engine's cooling system had been drained. When the water stopped coming out, we walked away. For a couple weeks it was cold. Really cold. One day we walked down to the boat. It had snowed and we wanted to make sure everything was ok.
Things weren't ok. The engine that we had thought we had carefully winterized was broken. Each cylinder barrel had monstrous cracks. Protruding out of the cracks were long, thin, delicate ribbons of ice. I was too shocked to express any emotion. For three years I was the person I wanted to be. I had learned so much, I got to experience Alaska, I was able to teach people about shoreline ecology and old growth forests. I watched people's expressions as I showed them ice calving from a glacier. I got to share my knowledge with my guests. I got to meet people from all over the world, and cook delicious meals for them. In the cold engine room, I stared at the Washington's wounds and saw all that I loved doing go away.
I took the freezing of the engine was an opportunity to learn. After the initial shock, we researched ways to fix the cracks. I told myself that this would be a great time to learn how the engine worked. It would give me hope that we could overcome the setback and continue to run the business, as well as give me an even greater confidence in operating the boat. It took the whole winter, but we did it. Me and Jeffrey together. I helped remove the heads, pistons, and liners. I touched each piece that came off the boat, I cleaned all the parts, I drilled the holes for the stitching pins we used to fix the cracks. I took the opportunity that the broken engine presented and I used it to learn. Now when I do my engine check every other hour, I know what's going on inside of the engine, because I have seen the parts and I have touched them. I can help troubleshoot and diagnose developing problems with the engine because I've learned about it.
Four years ago I decided to take another step forward and sit for my for 100-ton captain's license. I knew I had the time and I had a lot of experience, but it was also something I wanted to do to be a professional mariner. I was comfortable with everything about the class and the test with the exception of the math. I've always struggled with math partly because I'm dyslexic and it's easy for me to transpose numbers. I was always the slowest to complete the time, speed, distance problems. I was very self-conscious about being the only female in class. I was disappointed in myself for being so stereotypically terrible at math. I wanted to prove that I could do it. I wanted to be seen as a professional.
Test day came. I didn't have any trouble answering the rules questions. Then I got started on the navigation problems. I read, and reread. I plotted and erased. I questioned myself. One, by one, the other students finished and left. I was the last one in the room. I re-read, I erased, I checked, and double checked. The instructor came over to my desk as I stared at my answers unable to decide if I had done everything right. He looked down at my answers and said, "If I told you passed would you stop?" I had done it. Captain.
I love learning. Through my willingness to learn, I've been able to create my perfect job, and do what I want. Learning has opened up so many doors and helped me conquer obstacles of all magnitudes. Through an openness to learning, I have become, a naturalist, a chef, a photographer, a published author, a ship's engineer, and a captain.
Years ago Jeffrey asked me if my dream of owning a bed and breakfast needed to have a foundation, or if it could float. These 22 years since have been filled with accomplishments that my then 26-year-old self could not have dreamed of. My drive to persistently learn has been rewarded with a life on the water. A life that includes scenes like that one out my galley door, with sounds of kittiwakes and calving glaciers.
It's Five-ten now, Margerie glacier and the kittiwakes are silent again. Time to get to work.
From Jeffrey & Christine,
We are super excited to begin our 2017 Northwest Navigation season April 27th! We will be taking a family of seven to the San Juan Islands.
Plus next week we're going to start sending out trip recaps so you can enjoy all our adventures as they happen!
April 15, 2017 – Open Boat Thanks & Tin Hat Project Reveal
From Christine and Jeffrey,
Thank you to everyone who helped us with the Tin Hat Project and everyone who came to our open boat on Saturday. This was an incredibly fun project that turned out more beautiful than we imagined!
New Glacier Bay Photography Cruise
This is really exciting! We are teaming up with AdventuresNW Magazine editor John D'Onofrio, and Quicksliver Photo Lab's Digital Imaging Specialist and instructor, Alan Sanders for an 8-Day Photography Cruise in Glacier Bay.We've been working with John and Alan over the last several months to develop a special cruise for photographers that combines all the excitement of our Alaska trips with hands-on intensive instruction, new techniques for photography, and nightly constructive critique sessions.
If you've been on the David B before, you know I'm a complete and total Shutter Bug and having a chance to have two great instructors aboard the David B makes me absolutely giddy! I'm looking forward to this trip as a way to share the beauty and magnificence of Glacier Bay with you, as well as, having the opportunity to learn a whole lot more about how to take great photographs!
If you'd like to join us on this special cruise, visit our website for more information or give Sarah a call at 877-670-7863 or send her an email.
Glacier Bay Photography Cruise
Trip Number: 295
Dates: May 22-29, 2017
Boards/Returns: Auke Bay (Juneau)
Rates Per Person: $5600 (Special Introductory Pricing – $300 off 2017 rates!)
In the meantime, please enjoy the little video below I made from a trip we did last summer to Glacier Bay with Captain Jeffrey's family and a couple of our good friends.
Fair Winds,
Christine
Tin Hat Update – Putting on the Hat
We reached a major milestone in the Tin Hat Project this week, we put on the hat.
Early Tuesday morning just in time for sunrise we got underway. It was cold, sunny and beautiful on Bellingham Bay as we moved the David B from our slip in Squalicum Harbor to the Landings at Colony Wharf where a crane was ready to lift the Tin Hat from the shore and place it on the David B. Check out our latest video update to see us driving the David B as a convertible, the Tin Hat being lifted and set in place, and then heading back to our slip.
Thank you to Fluid Fabrication for a great job on the Tin Hat, and thank you to The Landings at Colony Wharf for a such an impressive move!
Now that The Hat is on, we have a lot of work to do to get it outfitted and ready to go for spring! We hope you'll keep following our progress and maybe even come along on a trip with us in Alaska, the Inside Passage or in the San Juan Islands this summer to experience for yourself the new and improved David B!
-Christine