COVID-19 Policies for 2022
So what will 2022 look like? It's hard to know, but we are doing our best to follow current best practices for COVID-19 and existing travel requirements. Please note this policy may be subject to change as more information becomes available and guidelines are updated. Visit our COVID-19 policy page for the most recent information.
Vaccinations
We will keep our requirement that you must be fully vaccinated for COVID-19. This will include any recommended booster shots. You will be required to provide proof of your current vaccination status one month before your trip begins.
Testing
We may require a negative rapid 15-minute test to board for all passengers and crew. Tests will be provided and administered by crew members. This will be subject to test kit availability. We'll make our determination about pre-boarding tests one month before our season begins based on the Centers for Disease Control's recommendations.
Learn to Cruise and Canadian Inside Passage trip passengers should plan for a PCR test and upload their negative test results no more than 72-hours before the trip sails, per Canadian travel requirements using the ArriveCan App. See link below.
We may also require a mid-trip test if anyone aboard the David B shows signs of COVID-like illness.
Risks of testing positive before boarding
If you test positive on the dock, then you will be responsible for costs associated with isolation and quarantine. You will not be entitled to a trip refund, however, we will be happy to reschedule you on a future trip within the next two years, subject to trip availability.
If you test positive before departing for your trip, please notify us as soon as possible. You will not be eligible for a trip refund, but we can reschedule you for a future trip. You are responsible for all canceled trip costs.
Masking
We've had several questions about masking on board. Since passengers and crew are fully vaccinated, we will not require masking during the trip. Passengers are welcome to wear masks if they choose.
We do however ask that you practice caution in the days leading up to your trip and during travel to the boat. Please reduce your outside contacts and wear a mask in public spaces to protect you, your travel companions, and the crew.
Rescheduling and Cancellations
Due to the pandemic, if something happens or you are unable to make your trip, we are allowing passengers to reschedule one time without any penalties or fees. Just let us know as soon as possible so we aren't waiting on the dock for you.
If we have to cancel due to covid, then you can either reschedule your trip up to two times or get a full refund of any payments made to Northwest Navigation.
In general, we always prefer you to reschedule and are happy to work with you during these challenging times.
Travel Requirements and Links
We comply with all US Federal, Alaska, Washington, and Canadian Covid travel requirements.
Here is an updated list of quick links for you to follow for pre-trip guidance.
US Federal: For all trips
Center for Disease Control – COVID-19 Information
US Customs and Border Protection – COVID-19 Information
Department of Homeland Security – Travelers Fact Sheet
Canada: Only for Learn to Cruise / Canadian Inside Passage Trips
Government of Canada COVID-19 information
Alaska: for all Alaska trips
Alaska COVID-19 Travel information
Ketchikan COVID-19 Response Information
Petersburg COVID-19 Information
Washington State: for trips boarding in Bellingham
Washington State Department of Health
Whatcom County Department of Health
Bellingham International Airport
Airlines:
Ferry Service:
Alaska Trips Not Affected by Ban
PRESS RELEASE:
Northwest Navigation Company's Motor Vessel David B Alaska Cruises Unaffected by Canada's Cruise Ship Ban
BELLINGHAM, Wash., Feb. 17, 2021 (SEND2PRESS NEWSWIRE) — Northwest Navigation Co., which operates the small cruise boat, M/V David B in Alaska, is unaffected by Canada's recent extended cruise ship ban for the summer of 2021. The company will still be offering multi-day cruises this summer, as are a number of small US-flagged Alaska boutique cruises, yacht charters, and niche market adventure cruises that specialize in remote wilderness small group tours.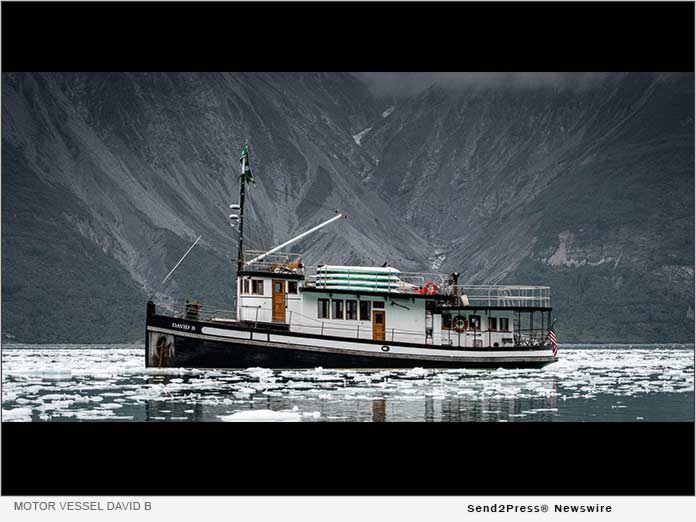 Canada's ban on cruise ships with over 100 passengers may force major cruise lines that are registered in countries outside of the United States to cancel their Alaska sailings due to laws that require those ships to stop in countries outside the United States. As one of several small US-flagged vessels that operate with 12 or fewer passengers, the David B is unaffected by Canada's ban and will be able to continue regularly scheduled operations in southeast Alaska.
"Most people are not aware that there is a class of small American boats which run tours in Alaska," says Christine Smith who's the co-owner, chef, and naturalist aboard the David B. "Boats like ours are unique, for example, we have a maximum of just eight passengers. Some of our closest competitors carry only 10 or 12. The boats are big enough that we've always given people plenty of space. There's never been a good name for our niche, but some people call us a micro-cruise, boutique cruise, small boat or small ship cruise. We offer light impact eco-tours that are more on the adventure side of Alaska cruises. We focus on being in nature and visit wilderness locations for our anchorages, hikes, and kayaking excursions."
If Canada continues with its ban on cruise ships, Alaska's economy will be adversely affected. A recent article in the Washington Post noted that only 48 passengers cruised Alaska in 2020. "We operated last summer too, but because of our small size I don't think our passengers were even included in the tally," Christine said. "We're a very niche market. You really have to look to find boats like ours. But for the people who do find us this year, they'll see a quieter Alaska, even if the large cruise ships find a way around Canada's ban."
For more information about Northwest Navigation visit: https://northwestnavigation.com/
About Northwest Navigation Co.:
Northwest Navigation Co. is based in Bellingham, Washington, and owns and operates the Motor Vessel David B. Since 2006 Northwest Navigation has offered multi-day, small boat tours in Alaska and Washington state. The David B is an historic 65-foot boat originally built for Alaska's salmon fishing industry in 1929. Jeffrey and Christine Smith started Northwest Navigation in 1998 with the purchase and restoration of the David B.
Vessel Image 72dpi: https://northwestnavigation.com/wp-content/uploads/2021/02/David-B-Image-72-dpi-scaled.jpg
Logo 72dpi: https://tinyurl.com/nwnav-logo
MEDIA CONTACT
Sarah Kirkish
Office Manager/Reservations Specialist
360-474-7218
sarah@northwestnavigation.com
News Source: Northwest Navigation Co
How Will COVID-19 Affect My Trip?
As the calendar turned from 2020 to 2021 we started asking ourselves more often what the new season
will look like in terms of COVID-19 precautions and policies. We feel that the virus is still a moving target and it's hard to know exactly what to expect. Our hopes are that the vaccination rollout will gain momentum and the vast majority of us will be vaccinated soon. For now, we are keeping our COVID-19 policies in place. You can visit our
COVID-19 policy page
for more information. In the meantime, here's what we're working on making sure that travel aboard the David B, while the coronavirus is still an issue, is as safe as possible.
Here's what travel will likely look like this summer:
Rescheduling:
You may still reschedule a trip due to COVID without penalty, but only one more time for folks who scheduled in 2020 and just once for folks who schedule with us in 2021. We plan to return to our
regular cancelation policy
when vaccines become widespread. We anticipate this will happen in late summer or early fall.
Pre-Travel Preparations: We are still asking folks to take extreme caution prior to their trip through quarantine, mask-wearing, and proper hygiene. You will need to provide proof of a negative test that was taken no more than 72 hours prior to boarding. We are also looking into the possibility of requiring a second rapid test that will be administered just prior to boarding. Because it is still unknown if a vaccinated person can spread the virus we will be looking to the CDC guidelines to see if vaccinated people can skip testing or if we will need to require testing for those folks as well.
Vaccinations:
Like many small and large businesses in tourism, we would like to require vaccinations for all of our passengers. However, there may be many legal implications, and there simply may not be enough vaccinations available until later spring or early summer.
Your crew, Jeffrey and Christine, will become eligible for their vaccinations in February or late March in Washington state according to the current vaccination timeline. It is our intention that the crew will be vaccinated prior to the season beginning.
Canada:
 Our north and southbound
Learn to Cruise
trips that run through Canada may have to be modified depending on when the border is open to non-essential travel. Last year Canada Customs had us stop and
do a health check. We were then given permission to anchor if needed due to any weather or mechanical issues. No one was allowed to get off the boat for any reason. If this continues to be the case, our plan is to cruise up the Inside Passage in 4-6 days possibly running 24/7 and anchoring only if necessary. Once we cross the border into Alaska, we will make up the remaining days by cruising in
Misty Fjords National Monument
. It's a good time of year for bear viewing, and with the reduction of cruise ships, Misty Fjords will be quiet, remote, and stunningly beautiful. We will be monitoring this closely and will likely know in March if the border will be open in late April when we leave to go north.
Alaska: 
Alaska's Health Mandate for interstate travel
is still in effect and requires that all travelers arriving in Alaska must take a test at least 72 hours prior to arrival in Alaska, have proof of a negative test, and fill out a health declaration. For our Northbound Learn to Cruise trip that ends in Ketchikan, Alaska allows us to count our days underway as quarantine days after people board in Bellingham with their COVID-19 negative test.
Hotels/Taxis: Last season, in an effort to protect the communities from potential exposure we asked that passengers arrive at the David B on the day of the trip and we then picked everyone up at the airport with the exception of Petersburg where taxi service or walking was acceptable. We are still working out whether this will be necessary for 2021.
What ifs: 
If you or another guest arrives aboard the David B and begins showing symptoms of COVID
-19, you will be isolated in your cabin and the trip will end. We will return to the dock and you will be required to quarantine in a hotel at your own expense until you test negative.
Like you, we are so tired of the virus and can't wait for it to be a memory, but while we wait for that day, we'll continue to work hard to make sure we are doing everything we can to make your trip safe. We'll continue to update you about changes. If you have any questions about travel this year aboard the David B, please call or email Sarah. She's great at fielding your questions.
We look forward to seeing you on the David B!