Dalls porpoises riding on the David B's Bow
Something I look forward to every year when we are running trips on the David B are the occasional visits by Dalls porpoises. These mid-sized sea mammals that looks deceptively like baby killer whales love to surf bow wakes. We often see them in the Inside Passage and Alaska. Usually they are foraging for fish, but sometimes, they turn their attention to the David B. It begins with seeing their characteristic rooter-tail splashing a ways off, and with surprising speed, they soon rush up alongside of the boat, and then they begin jockeying for the prime spot just in front of the boat's stem. It's a thrill to watch their speed and their agility.
Here's a little complication of a few of the amazing experiences we've had with surfing Dalls porpoises.
Some days are simply perfect. The weather's warm. The skies are blue. The water flat calm, and the line between sea and sky is almost indistinguishable. We had a day like that in August. It was the kind of day that happens every-so-often in the temperate rain-forest climate of southeast Alaska. It was the kind of day where all the conditions were just right for watching humpback whales. Not only could we stop to watch, but we were able to turn off the engine and drift silently. Without background noise from the boat, we were able to experience something different. All around us, and spread out over several miles were humpback whales in groups of two or three, and alone. All foraging.  When they would surface, their breath would make an explosive "swooshing" sound. Atomized water particles hung still in the air marking the spot where they had come up. It was hard to know where to look. The sounds of whales surrounded the boat. They would sometimes surface near to the David B. Other times they'd be distant. We just drifted upon the open water; watching, listening, observing.
Our only real plan for that day was to anchor in the evening somewhere at Admiralty Island or Baranof Island. We didn't have any concrete plans for the day. Having an itinerary means you have to get somewhere, and when nature presents something beautiful and awe inspiring to enjoy, an itinerary means you just have to put on your blinders and keep going. So there we were, sitting around listening to whales. We'd also dropped a hydrophone (an underwater microphone) over the side. The small amplifier on deck that the hydrophone was plugged to revealed all kinds of whale sounds from funny-bawdy to ethereal. From my spot on deck, I could see couple of whales surfacing about a quarter mile away. It soon became evident that they were heading our direction. Everyone on deck turned their attention to these whales. They moved in a straight line. We watched. Each time they broke the surface, they were closer. Soon, one whales was close enough to see it under water –it's
long pectoral fins faintly glowing against the deep dark water. Over the amplifier, a couple barking sounds and some bubbles could be heard. Then a few seconds later, a whale surfaced just off our starboard side. It lifted it's fluke high and dove under the boat. Farther aft, the second whale surfaced and dove as well. There was a moment of joy, then wonder. I wondered why they chose that path? Where were they going? What did the sounds mean? How long would they remain under water? Where would they surface next?
A few minutes later they surfaced again along the same line. I assumed they were traveling to a spot with more food, but I don't really know what they were doing or planning. We hung around a little while longer. Jeffrey started the engine up, and we picked our way around other foraging whales. In the evening, we anchored in a little cove at Baranof Warm Springs Bay. As I made dinner, I reflected on the day, our luck, and I thought to myself, "it couldn't possibly get any better than this."
Please note – For full screen click on video, then click on" [ ]" in lower right corner.
When we enter Nettle Basin on our Southbound Inside Passage cruise between Ketchikan and Bellingham, we always hope we'll find bears at Verney Falls. In mid-August the salmon come home to spawn here and the bears come for the feast.
Nettle Basin, at the base of the falls will be alive with hundreds of splashing salmon. Sometimes we'll kayak right up to the waterfall to watch eagles, ravens, and bears feeding on the salmon. It's exciting to watch bears fishing but I've often found myself more mesmerized by the great schools of salmon that gather in the pool at the base of the waterfall. When they jump, it sends a splash of water on to me and my kayak and as they swim their fins cut the surface like sharks.
There's a lot of energy packed into in this small space. It's nature's raw energy of life and survival. I find myself rooting for both the fish and the bears, and I root for the eagles and the ravens too. It's easy to get caught up in the drama at the waterfall, it's why we like to come here.
-Christine
Watching whales in the Inside Passage
On the second day of one of our southbound Learn to Cruise trips, we came across these two humpback whales foraging near the shore of Dundas Island. As they foraged we stayed a respectful distance to make sure we didn't disturb them, but we were close enough that with binoculars and a good camera lens we got to see the individual markings on their flukes (tails) when they dove.  When they surfaced, we could see the baleen in their mouths that they use to strain the fish or krill that they were eating.
It was fascinating to watch. The whales would often surface close to shore and my guess is that they were probably using the rocks underwater to help school their prey. We stayed with the whales for 20-30 minuets before heading on to Prince Rupert. Besides these two humpback whales we saw two others, several harbor seals, lots of different sea birds, and many bald eagles.
-Christine
Waiting for humpback whales
I always feel like there's sort of a Jack-in-the-box element to watching humpback whales forage. When they are at the surface we can see them breathing, flapping their flippers, or slapping their flukes (tails), but when they dive, it's anybody's guess as to where they'll surface next.
I like to think about the wait between surfacing as a time to refocus my attention on my surroundings. I know that they will be beneath the surface for 3-7 minutes. They'll be rounding up forage fish and doing the things that whales do — the stuff we can't see. In that time, I like to think about where they'll come back up, or how funny it is that there are these enormous animals so close, (only a few hundred of feet away) and yet I can't see them. I like to look into the water for passing jelly fish, or a tangle of kelp that slips along in the current. I watch the gulls for cues about where the whales are. On occasion when they swim right beneath us, the bubbles of their breath will bounce up along the David B's planks –a reminder that somewhere, just a out-of-sight, but oh, so close, there are whales. I refocus my attention to the whales. I wonder how long ago they were under the boat. I wonder what direction they are going. I calculate the time. I lift my camera and wait.  I wait for the thrill of hearing the explosive breath again and seeing these usually invisible giants. It's like a Jack-in-the-box.
-Christine
When people ask what I do for a living, I respond that Jeffrey and I run a tour boat in Alaska, and if that leads to a longer conversation, I usually continue on about how we spend lots of time watching humpback and orca whales, and how we have a couple of spotting scopes on the boat so we can watch bears forage on the beach. Rarely do I run on about how much I love watching crows and other common animals. This is partly because, like weeds, the virtues of crows remain undiscovered for most people.
I find crows fascinating. They help me fulfill my need for nature during the off-season at my urban home where there are no deep-wilderness animals to geek-out on.  Sometimes the crows tell me what's going on in the neighborhood. Like the time when a raccoon was out wandering during the day. I heard what I like to call a "crowmotion" a few block to the east. The crows were noisily and excitedly moving through yards and alleys. I stepped out the backdoor to see what all the fuss was about. As soon as I opened the door a raccoon came into my yard seeking refuge in a tall cedar tree. Unfortunately for the raccoon, there were already two other raccoons sleeping there and the poor thing was forced to move along. I watched it leave the tree and cross the street. I lost track of the raccoon as it ambled into the neighbor's yard, but the crows continued their parade "cawing" and flying from tree to tree for several blocks.
I've learned a lot from observing crows and that with their help, they often lead me to exciting discoveries. One time I was kayaking close to shore in a cove in Alaska. It was a calm overcast day. I was looking for sea stars, crabs, and small schools of fish. I kept my attention focused on the water below my boat. After a while my ears picked up the sound of several crows in the bushes to my left. The crows were going on and on about something. I half listened thinking there was probably an eagle in a tree. I decided to look up. No eagle. I went back to skimming along the surface and searching the shallow water. They crows kept talking. I looked up again and decided to see if I could find the focus of their attention. I held my boat still by gently padding the water with my paddle. I watched. The crows were clustered low on the branches of spruce, hemlock, and alders. I looked at where they were looking. A branch moved. The tide was high and I was maybe 30 feet from the edge of the forest. I held still and smiled to myself as my eyes made out a dark fuzzy round shape with two more fuzzy round shapes on top. The animal was partially blocked by shrubs and very difficult to see. The crows had discovered a brown bear and wanted everyone to know. I had listened.
There have been many other times that the cues of common animals have increased my awareness. I've watched gulls flying in a straight line, then suddenly circle. Most of the time it's a fish coming to the surface, but sometimes it's a whale. One day I realized that I often say things like, "Oh, that's just a crow", or, "It's just a gull," when really, they are so much more than "just a." They are communicators and lively participants in the ecosystems and habitats of which we are part. If we pause to listen to them, we might discover they know things that will truly enrich our lives.
That time we anchored in Tracy Arm…
It was maybe the coolest thing we did all summer, and it wasn't planned at all. I didn't really mean to be there at that time of day anyway.
What started it all was a "boring" glacier in another fjord. We normally visit a glacier on our Juneau and Petersburg trips, and stay around for an hour or so to watch it calve, but this time — no luck.  We drifted around, and drifted around and nothing. The glacier was just sitting there, doing absolutely nothing. Maybe a couple little snowballs, but not like our normal shows. And it was really windy, so we kept having to maneuver to get back into position. There were lots of big icebergs that we pushed up against, and lots of brash ice and the whole thing was really annoying since nothing was going on with the glacier.
So I made a pronouncement "this glacier is boring! I'll take you to see better one tomorrow." Seemed like a good idea at the time.
The next morning we got underway at a nice civilized hour. The logbook says: "0935 — Underway" Then everything seemed to slow us down. The tide was against us, we stopped for whales, we didn't even make it out of Endicott Arm until well after lunch.
And so, late in the afternoon we were headed up Tracy Arm and we weren't going to make it. Turning around meant covering this same stretch of water two more times and if we kept on to the glacier, it was going to be dark on our way out. Not good when you're trying to avoid icebergs.
So I did what anyone would do in that situation. I anchored right in the fjord. We'd been told about a spot where a river flows out into the fjord and pushes the icebergs away, but it didn't seem that good, so we went back a few miles and dropped the hook on a shallow ledge where another stream flows out. We'd scooped out this spot a few weeks earlier, tested the depths and looked at how the stream flow pushed the ice away.
It was amazingly beautiful. Everyone got in kayaks and paddled around the little bergy bits that were nearby and watched a black bear at the water's edge. Then we observed a seal eating salmon, and there was even a place to nose the kayaks into a little waterfall flowing into the fjord. Over dinner we spotted the bear again on the rocks high above us.
As darkness fell, Christine, Cass and I set an all night anchor watch, which was mostly an all night berg watch. We plotted the big ones with the radar, we scanned for small ones by searchlight. It was really eerie watching the huge bergs go by all night at a quarter knot or so, but it was too shallow for them to get close to us.  
When you go through a night like this, it seems almost bittersweet when it starts to get light. It was so serene and peaceful as the bergs marched slowly past us in the dark, first one way, then the other as the tide turned. There was a kind of magic to it. We were the only ones there quietly watching what the natural world had been doing for thousands of years
The spell continued as it got light, and we got underway to be the first ones to the glacier. The sun shone brilliantly, and this time, the glacier performed.
-Captain Jeffrey
The Best Hike on Cypress Island – Eagle Cliff
This story was originally published at CruisingNW.com and can be read there in its entirety. 
Where the skiff meets the beach the sound of hundreds, if not thousands of small-flat weathered rocks clatter and scrape against each other as if in protest of having to move out of the way. I feel the same protest from under my Xtra-Tuf boots as I hop out of the boat and onto Pelican Beach at Cypress Island. The shore, as far as I can tell, is made up entirely of skipping stones, accented by a few large weathered logs. Once again, I think, no pelicans, and to the best of my knowledge few, if any have ever visited here. Maybe someone, some day will tell me the story of how Pelican Beach got its name.
It's always tempting to sit down on a log and mindlessly sort through rocks, or spend the day watching the changing moods of Mount Baker while boats cruise though Bellingham Channel. The reason I continue up the beach is the 1.3 mile hike to the top of Eagle Cliff. It's a moderately strenuous hike, but the effort is rewarded with one of the best views in the San Juan Islands.
Cypress Island is unusual in the San Juan Islands. It's heavily forested and virtually unpopulated. As the fifth largest island in this highly developed archipelago it's remarkable that 91% of the 5500 acres of land on the island is public. Cypress Island is managed by the Washington State Department of Natural Resources (DNR) and most of the land operated as a Natural Resources Conservation Area that's reserved for outdoor recreation like the hike to Eagle Cliff, and the rest is protected as a Natural Area Preserve.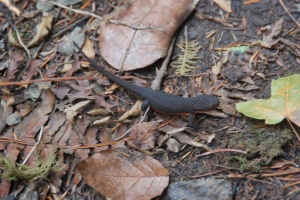 The hike to Eagle Cliff is through a predominantly Douglas fir forest, but there are also Western red cedars, Western hemlocks, and big leaf maples. I look forward to whatever I might find in the forest. My favorite two animals on Cypress are the poisonous rough skinned newt and the banana slug. As I walk the trail…Continue Reading at CruisingNW.Com.
Whenever I see salmon in our local streams or in far-away wild places, it reminds me of the endless cycles of the seasons that often seem to go unnoticed. It's changing from fall to winter bringing big winds and rain. Leaves from the maple trees have all blown down, and the trails are muddy from the fallen leaves trampled into the soil. When the rain and the wind come to my home, I know that soon the chum salmon will too. And along with them, bald eagles and people will appear along the banks of our urban streams. All these things have come to symbolize to me that another cycle for the David B has ended.
Fall and winter are a busy time for us. Each year in October our trips are finished and it seems like spring is impossibly far away. I drive around town picking up parts for the boat, the mail at the post office, and doing other off-seasons tasks. I often go past Whatcom creek, a small salmon-bearing creek that empties into Bellingham Bay. The in-town anglers line up, elbow to elbow along a retaining wall for their chance to catch a fish.
The other day when I saw the crowd of fishermen it reminded me of a day few months earlier in mid-July when I was kayaking with some of our guests in Alaska — Cannery Cove at Admiralty Island to be specific. It's one of the most scenic anchorages we visit — almost unbelievable in it's beauty. From our anchorage, the 3800-foot high Bear Pass Mountain rises right from the edge of the cove. Between the water's edge and the top of the peak an ancient forest covers the side of the mountain. The boughs of those old-old trees seem to cling to the slowly rising wisps of clouds. Ravens fill this basin-like cove with their throaty "kwork-kwork," calls while eagles whistle from their high perches atop of impossibly tall trees. Multiple waterfalls are visible as they tumble down Bear Pass Mountain forming cold and snow-fed salmon streams. Here the chum salmon run earlier than those in Washington state.
On that day in July we kayaked to a spot where I'd seen a brown bear the week earlier. I figured I might as well check it out again, and sure enough, almost as if on cue, a bear ambled out onto the beach. It was, like the scenery in Cannery Cove, almost unbelievable. My guests followed and we watched the bear eat grass, dig a little around the beach and walk along the water's edge. As I held my kayak in place, dipping my paddle into the water and pulling back slightly, I focused my eyes into the shallows below my boat. The water was clear and I could see a deeper dark-bluish-green channel that lead through the tidally-submerged mudflats at the head of the cove. Something caught my eye. It was a school of chum salmon swimming purposefully through the deep channel. These fish were nearing the end of their life-cycle. Their bodies already showed the changes that salmon go through on their way to spawn in freshwater. No longer were they the sleek and silver salmon of the Pacific ocean, they were now greenish with distinctive purple tiger-stripes. If I'd been able to scoop one of them out of the water, I'd have seen that their mouths were developing a hooked snout and canine-like teeth. These changes were in preparation for their final stage in life — migration up their natal stream for their chance to spawn and to end one cycle while beginning another.
Our cyclical lifestyle is defined by our sailing season and our off-season. We've finished with our wilderness adventures on the David B for the year, and we've prepared it for winter. We've finalized our project list, and put a winter cover over the boat. Is it the beginning of a new cycle? Or the end of the old? It's hard to know and it doesn't really matter where the line is. What does matter is that during this part of the cycle we get to reconnect with past passengers who are planning to return to the David B, and connect with new people who will travel with us for the first time. In a few months the David B will emerge with fresh paint, new varnish, and upgraded systems. Soon after, we will set off for new adventures. And a new cycle.