The Best Hike on Cypress Island – Eagle Cliff
This story was originally published at CruisingNW.com and can be read there in its entirety. 
Where the skiff meets the beach the sound of hundreds, if not thousands of small-flat weathered rocks clatter and scrape against each other as if in protest of having to move out of the way. I feel the same protest from under my Xtra-Tuf boots as I hop out of the boat and onto Pelican Beach at Cypress Island. The shore, as far as I can tell, is made up entirely of skipping stones, accented by a few large weathered logs. Once again, I think, no pelicans, and to the best of my knowledge few, if any have ever visited here. Maybe someone, some day will tell me the story of how Pelican Beach got its name.
It's always tempting to sit down on a log and mindlessly sort through rocks, or spend the day watching the changing moods of Mount Baker while boats cruise though Bellingham Channel. The reason I continue up the beach is the 1.3 mile hike to the top of Eagle Cliff. It's a moderately strenuous hike, but the effort is rewarded with one of the best views in the San Juan Islands.
Cypress Island is unusual in the San Juan Islands. It's heavily forested and virtually unpopulated. As the fifth largest island in this highly developed archipelago it's remarkable that 91% of the 5500 acres of land on the island is public. Cypress Island is managed by the Washington State Department of Natural Resources (DNR) and most of the land operated as a Natural Resources Conservation Area that's reserved for outdoor recreation like the hike to Eagle Cliff, and the rest is protected as a Natural Area Preserve.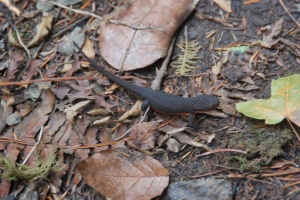 The hike to Eagle Cliff is through a predominantly Douglas fir forest, but there are also Western red cedars, Western hemlocks, and big leaf maples. I look forward to whatever I might find in the forest. My favorite two animals on Cypress are the poisonous rough skinned newt and the banana slug. As I walk the trail…Continue Reading at CruisingNW.Com.