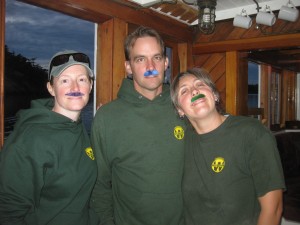 A few of years ago we had a couple from Austin, Texas come on the David B for a cruise in the San Juan Islands. Sarah and Rob are both adventurous people and we took a liking to them immediately. Rob and Sarah are interesting for many reasons, but one of the most interesting thing about them is their lifestyle. They are "urban nomads." This means they live lightly and are constantly on the move.
In the spring when we were looking for a house sitter to take care of our cats while we are away in Alaska doing cruises, Sarah and Rob were looking for a place to rebuild their newly purchased RV. Their schedule fit perfectly with ours and we've been feeling lucky to have them taking care of both our house and our cats. Here's Sarah and Rob's story. It was originally published on Sarah's blog.
Nomadic Serendipity
June 20, 2012
Rob said, "The whole reason we moved to the Pacific Northwest was so I can rebuild our RV." Funny, I thought we moved to the PNW when he took a job as an engineer last year. Silly me.
I had asked him about Serendipity at lunch today, because the Technomads recently issued a Serendipity Challenge: http://www.technomadia.com/2012/06/serendipity-challenge-contest/ The challenge asked how being open to opportunities leads to incredible experiences.
Working backwards, I think Rob is right. Serendipity has definitely played a part in our lives over the past four years.
First, we are having a wonderful time this summer because our friends Jeffrey and Christine asked us to house and cat sit while they are in Alaska's inside passage. We met Jeffrey and Christine Smith when we took one of their small ship cruises in 2010. This cruise trip to the San Juan Islands was organized by Chuck Byrd, who was one of the Smith's first passengers when they started their business in 2006. Rob met Chuck, who led a Sierra Club outings leadership training that Rob took in 2008. Rob took this training because when he first moved to Austin, TX he wanted to meet new people.
Secondly, how does this help us rebuild an RV? Well in addition to a cute house in Bellingham,WA with hot and cold running cats Harriett and Oswald, the Smith's have a full-sized wood shop plus a quarter-ton pick-up truck from Christine's former gardening business. I can't imagine rebuilding the RV DIY style in less than twelve weeks without access to storage, tools and a table saw. There is no way Rob could have gotten the materials we needed or disposed of the old RV contents with out that old panel truck.
Two more added bonuses to living in Bellingham are that it has one of the country's best hardware stores and by being a seaside port town, lots of marine supply stores. Hardware Sales is not a store, it is an industrial complex with over four buildings spanning two city blocks. (Take THAT Home Depot and Lowes!) The aisles are narrow and filled from floor to ceiling with tools, hardware and building materials. If they don't have it, you don't need it. No seriously, you don't.
Fortunately there are a lot of cross overs between RV and Marine applications. Often you need it small, efficient and nailed down. Looking for cabinet door catches and the RV store charges an arm and a leg? You can always try the Pacific Marine Exchange looking for "consignment booty".
Finally, the last bit of serendipity is what I call the "mercy firing".
Since he started in mid-May, Rob has been spending eight hours a day five and six days a week working on the RV. The project is that extensive, even with Rob's considerable engineering and building skills. Still, Rob has the time to rebuild the RV because he was let go the Monday before we were supposed to start house sitting. How is that for timing?
A bit more background for those of you without a scorecard about Rob's job. Last year when a head hunter approached Rob, he thought this job would give him a sense of accomplishment by working for an established company with definite projects. Initially it was exciting to be moving to Bellingham, WA because we knew Jeffrey and Christine. They were very helpful offering suggestions about nice places to live. They even let us store our stuff in their shop for a week. (Man that shop is useful!)
Unfortunately that was not to be the case. Legacy products and corporate culture was clamping down hard on his definition of quality engineering. So Rob had already begun planning his exit strategy, but he wanted to rebuild the RV first.
Rob's original plan was to work full-time while working on the RV at night and then give his notice in August. That is when we would start RV'ing full-time. Admittedly I was worried he wouldn't have enough time to rebuild the RV at night. Nor was I looking forward to being a "RV widow", even if he was just 60 feet away in the backyard. Thankfully the company realized Rob's heart just wasn't in the job anymore and let him go.
So through a connection that started four years ago in Austin, TX, we wound up in Bellingham, WA rebuilding an RV practically from scratch and with the time to do it right.  Thanks again Chuck for inviting us on your small ship cruise trip all those years ago. I'm so glad we said yes! I can only imagine that given how our full-time RV lifestyle is starting out that Serendipity will continue to be a force in our lives for many years to come.
Click to follow Sarah Kirkish – Urban Nomad and Business Consultant, or check out Sarah's business Work Life Organization.