Watching whales in the Inside Passage
On the second day of one of our southbound Learn to Cruise trips, we came across these two humpback whales foraging near the shore of Dundas Island. As they foraged we stayed a respectful distance to make sure we didn't disturb them, but we were close enough that with binoculars and a good camera lens we got to see the individual markings on their flukes (tails) when they dove.  When they surfaced, we could see the baleen in their mouths that they use to strain the fish or krill that they were eating.
It was fascinating to watch. The whales would often surface close to shore and my guess is that they were probably using the rocks underwater to help school their prey. We stayed with the whales for 20-30 minuets before heading on to Prince Rupert. Besides these two humpback whales we saw two others, several harbor seals, lots of different sea birds, and many bald eagles.
-Christine
Project Management Mastery – The Inside Passage Project
New Project Management Course Offered on the David B
Cheetah Learning Services has partnered with Northwest Navigation Co, to offer a unique new project management certification course. This course, Project Management Mastery – The Inside Passage Project recognizes that a long voyage requires a large amount of planning and strategy and yet it encapsulates all the concepts of Project Management with a strong emphasis on Risk Management and Team Building. The course is a 12-day voyage through the Inside Passage to Alaska and takes place aboard the Motor Vessel David B.
The instructor, Captain Jeffrey Smith will guide participants in learning to make real time decisions, and to play a part both as a member of the technical team producing the deliverables but also as a manager assessing the execution of the project/voyage as well. Cheetah Learning Service's founder Michelle LaBrosse, CCPM, PMP, PMI-ACP, RYT, and Northwest Navigation's Captain Jeffrey, developed the Project
Management Mastery – The Inside Passage Project after Ms. LaBrosse attended his Learn to Cruise – Passage to Alaska course.
The concept behind Project Management Mastery– The Inside Passage Project is to utilize the skills that Captain Jeffrey Smith has acquired over 20 years as professional mariner in the context of project management so that the participant learns to engage his/her skills in planning, sourcing, risk management and team building.
Program Details
Project Management Mastery – The Inside Passage Project – 12-Days – Northbound
Dates:
May 7-18, 2016 – Bellingham, Washington to Ketchikan, Alaska
May 6-17, 2017 – Bellingham, Washington to Ketchikan, Alaska
Project Management Mastery – The Inside Passage Project – 12-Days – Southbound
Dates:
August 11-22, 2016 – Ketchikan, Alaska to Bellingham, Washington
August 10-21, 2017 – Ketchikan, Alaska to Bellingham, Washington
Credit: – 60 PDU or 6 CEU
Tuition: – $6200 USD
About Cheetah Learning Services:
Cheetah Learning – Headquartered in Carson City, Nevada, Cheetah Learning has training centers around the world and is a proven global leader in Project Management Performance Improvement and Project Manager Professional Development. Cheetah was founded in 1999 with the commitment to enable people to achieve significant bottom line improvements, fast.
Waiting for humpback whales
I always feel like there's sort of a Jack-in-the-box element to watching humpback whales forage. When they are at the surface we can see them breathing, flapping their flippers, or slapping their flukes (tails), but when they dive, it's anybody's guess as to where they'll surface next.
I like to think about the wait between surfacing as a time to refocus my attention on my surroundings. I know that they will be beneath the surface for 3-7 minutes. They'll be rounding up forage fish and doing the things that whales do — the stuff we can't see. In that time, I like to think about where they'll come back up, or how funny it is that there are these enormous animals so close, (only a few hundred of feet away) and yet I can't see them. I like to look into the water for passing jelly fish, or a tangle of kelp that slips along in the current. I watch the gulls for cues about where the whales are. On occasion when they swim right beneath us, the bubbles of their breath will bounce up along the David B's planks –a reminder that somewhere, just a out-of-sight, but oh, so close, there are whales. I refocus my attention to the whales. I wonder how long ago they were under the boat. I wonder what direction they are going. I calculate the time. I lift my camera and wait.  I wait for the thrill of hearing the explosive breath again and seeing these usually invisible giants. It's like a Jack-in-the-box.
-Christine
Going Ashore in the Wilds of Alaska
From the bow of the skiff, I watch for bears and submerged rocks as we close in on the beach. In the final moments before I hop out, Jeffrey cuts the motor and lifts its prop out of the water. The sandy beach greets the fiberglass with a scratchy hello. Jeffrey instructs our guests to sit back while I step ashore and pull the boat up a little higher. Our guests climb out of "Skiffy" and after a radio check, a quick chat about the pick-up time, and meal prep, I push Jeffrey and Skiffy back out into the water. He'll be back in a few hours.
It's quiet. We're on the beach. No cars, no cell phones, no Wifi, no pressures. Just me, six people, and the wilderness.
We go ashore because the wilderness is a real place. It's more than a backdrop of beauty to pass by balcony windows and outside decks of larger cruise ships. Yes, the David B, is a warm, cozy vessel for cruising in Alaska, but Jeffrey and I have a greater goal for the David B's
cruises– to experience the wilderness, where it's fresh, it's clean, it's wild. It's a p
lace too few people know anymore, and at a time when nature and wilderness are what we need to find calm in our ragged, over-scheduled lives. No matter how addicted I am to my distracted wireless life during the off-season, (and trust me, I can't leave my device alone when a connection is available,) I yearn deeply for my summer
months on the David B, with our guests, in the wilderness of southeast Alaska. It's a place where we can squat down next to a tide pool and lose track of time watching the rhythmic motion of the tiny feathery appendages that barnacles sweep the water with, while hermit crabs fight, sea-stars hunt, and small fish dart with lightning speed for a safe haven between sponge encrusted rocks.
If there were more people than just our small group it wouldn't be the same, and our group size allows us to have permits to take people to really special places. Places that other boats with more than twelve passengers cannot take their guests. Places few people ever touch foot. Going ashore is where you feel the power of Alaska, its nature and the draw of wilderness. When I push back on the branches of a Sitka spruce and the thorny leaves of a Devil's club, to open up a passage into an ancient forest where the trails are made only by bears and deer, I know we are truly stepping into the real Alaska. We are getting more than just pretty backdrop scenery on the way to the next town and t-shirt shop, and we're experiencing a transformation in ourselves as the timelessness of the wilderness whispers of our ancient and lost connection to nature.
I hope to get to walk ashore with you this summer.
-Christine
A hike at Fords Terror with My 78 year-old dad
My dad gets around pretty well, so long as the path is flat and he has his hiking poles, but he isn't able to do much that's really rocky or too steep. So this past summer when we were anchored at Fords Terror he politely declined to go with the rest of the family on the hike.
This was kind of a problem for me because I really wanted him to see it. I really think it is the most stunning place we go ashore in SE Alaska. First, the anchorage is surrounded by these amazing waterfalls, some coming down the sheer walls of the fjord for three to four thousand feet, and of course there's the "Terror" itself, with the current rushing through the narrow spot, making standing waves four feet high. But when you go ashore it gets even more amazing.
What suffices for a trail goes up to a place where you can look down on the rapids and even start to get a peek up the fjord behind the rapids. Then you walk over a little moss-covered granite rise and you come to the most amazing thing — the kettle ponds. Carved out of solid granite by the action of the glacier passing over the top of the rock, these little ponds, ranging from three to twenty feet across, are just full of lilly pads. It's an amazing sight. This summer, on an early trip to the spot, I stepped off the trail to let one of my guests pass so she could see and I actually heard her gasp when she saw them. It actually took her breath away.
"I know you told us about this beforehand, but I can't believe how beautiful it is," she told us later.
So when my dad was on the boat this past summer, I really wanted him to see it. But the first part of the hike is slippery and seaweed covered, then there's the section that's steep, muddy and in a sort of slot through the granite only to get up to the section where the narrow trail pushes through the underbrush and up a muddy ravine. It finally comes out on the slippery moss-covered granite, and that's where you get this astonishing view.
And he had just declined to go. This is the man that has been hiking and backpacking since before he was in college.This is a guy that has hiked the Rockies, the Cascades, the Sierras, the Brooks Range, summited Mount Rainier, Grand Teton and treked in Nepal around Everest. He is the father that took me and my sister backpacking so we could experience the beauty of nature. He started us when we were just four and six, and we went every year until we were "too old" (teanagers) to go on family vacations.  Now here we were on a family vacation and he had said "no."
So I convinced him. For once, I could show him an amazing wilderness spot. The rest of the group went ahead while we hiked and scrambled. At one point, I held him steady by his belt loops. Later he even had to crawl on his hands and knees. It was a lot of work for both of us, but we made it.  And he got to see this place that his adult son now takes people to experience the amazing  beauty of nature.
Just like he used to take me.
He thanked me for my persistence too, when we got back to the boat, and I really think he enjoyed the hike, even though it was tough for him.
We hike at Fords Terror on almost all of our trips in Alaska, unless there are unusual circumstances. It's really majestic. I really want people to see it, but I won't force you to go.
I'll steady you by your belt loops if you need it though.
Captain Jeffrey
That time we anchored in Tracy Arm…
It was maybe the coolest thing we did all summer, and it wasn't planned at all. I didn't really mean to be there at that time of day anyway.
What started it all was a "boring" glacier in another fjord. We normally visit a glacier on our Juneau and Petersburg trips, and stay around for an hour or so to watch it calve, but this time — no luck.  We drifted around, and drifted around and nothing. The glacier was just sitting there, doing absolutely nothing. Maybe a couple little snowballs, but not like our normal shows. And it was really windy, so we kept having to maneuver to get back into position. There were lots of big icebergs that we pushed up against, and lots of brash ice and the whole thing was really annoying since nothing was going on with the glacier.
So I made a pronouncement "this glacier is boring! I'll take you to see better one tomorrow." Seemed like a good idea at the time.
The next morning we got underway at a nice civilized hour. The logbook says: "0935 — Underway" Then everything seemed to slow us down. The tide was against us, we stopped for whales, we didn't even make it out of Endicott Arm until well after lunch.
And so, late in the afternoon we were headed up Tracy Arm and we weren't going to make it. Turning around meant covering this same stretch of water two more times and if we kept on to the glacier, it was going to be dark on our way out. Not good when you're trying to avoid icebergs.
So I did what anyone would do in that situation. I anchored right in the fjord. We'd been told about a spot where a river flows out into the fjord and pushes the icebergs away, but it didn't seem that good, so we went back a few miles and dropped the hook on a shallow ledge where another stream flows out. We'd scooped out this spot a few weeks earlier, tested the depths and looked at how the stream flow pushed the ice away.
It was amazingly beautiful. Everyone got in kayaks and paddled around the little bergy bits that were nearby and watched a black bear at the water's edge. Then we observed a seal eating salmon, and there was even a place to nose the kayaks into a little waterfall flowing into the fjord. Over dinner we spotted the bear again on the rocks high above us.
As darkness fell, Christine, Cass and I set an all night anchor watch, which was mostly an all night berg watch. We plotted the big ones with the radar, we scanned for small ones by searchlight. It was really eerie watching the huge bergs go by all night at a quarter knot or so, but it was too shallow for them to get close to us.  
When you go through a night like this, it seems almost bittersweet when it starts to get light. It was so serene and peaceful as the bergs marched slowly past us in the dark, first one way, then the other as the tide turned. There was a kind of magic to it. We were the only ones there quietly watching what the natural world had been doing for thousands of years
The spell continued as it got light, and we got underway to be the first ones to the glacier. The sun shone brilliantly, and this time, the glacier performed.
-Captain Jeffrey
The Best Hike on Cypress Island – Eagle Cliff
This story was originally published at CruisingNW.com and can be read there in its entirety. 
Where the skiff meets the beach the sound of hundreds, if not thousands of small-flat weathered rocks clatter and scrape against each other as if in protest of having to move out of the way. I feel the same protest from under my Xtra-Tuf boots as I hop out of the boat and onto Pelican Beach at Cypress Island. The shore, as far as I can tell, is made up entirely of skipping stones, accented by a few large weathered logs. Once again, I think, no pelicans, and to the best of my knowledge few, if any have ever visited here. Maybe someone, some day will tell me the story of how Pelican Beach got its name.
It's always tempting to sit down on a log and mindlessly sort through rocks, or spend the day watching the changing moods of Mount Baker while boats cruise though Bellingham Channel. The reason I continue up the beach is the 1.3 mile hike to the top of Eagle Cliff. It's a moderately strenuous hike, but the effort is rewarded with one of the best views in the San Juan Islands.
Cypress Island is unusual in the San Juan Islands. It's heavily forested and virtually unpopulated. As the fifth largest island in this highly developed archipelago it's remarkable that 91% of the 5500 acres of land on the island is public. Cypress Island is managed by the Washington State Department of Natural Resources (DNR) and most of the land operated as a Natural Resources Conservation Area that's reserved for outdoor recreation like the hike to Eagle Cliff, and the rest is protected as a Natural Area Preserve.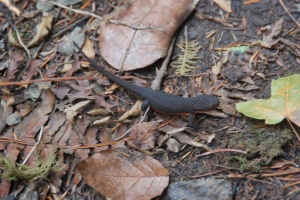 The hike to Eagle Cliff is through a predominantly Douglas fir forest, but there are also Western red cedars, Western hemlocks, and big leaf maples. I look forward to whatever I might find in the forest. My favorite two animals on Cypress are the poisonous rough skinned newt and the banana slug. As I walk the trail…Continue Reading at CruisingNW.Com.
Whenever I see salmon in our local streams or in far-away wild places, it reminds me of the endless cycles of the seasons that often seem to go unnoticed. It's changing from fall to winter bringing big winds and rain. Leaves from the maple trees have all blown down, and the trails are muddy from the fallen leaves trampled into the soil. When the rain and the wind come to my home, I know that soon the chum salmon will too. And along with them, bald eagles and people will appear along the banks of our urban streams. All these things have come to symbolize to me that another cycle for the David B has ended.
Fall and winter are a busy time for us. Each year in October our trips are finished and it seems like spring is impossibly far away. I drive around town picking up parts for the boat, the mail at the post office, and doing other off-seasons tasks. I often go past Whatcom creek, a small salmon-bearing creek that empties into Bellingham Bay. The in-town anglers line up, elbow to elbow along a retaining wall for their chance to catch a fish.
The other day when I saw the crowd of fishermen it reminded me of a day few months earlier in mid-July when I was kayaking with some of our guests in Alaska — Cannery Cove at Admiralty Island to be specific. It's one of the most scenic anchorages we visit — almost unbelievable in it's beauty. From our anchorage, the 3800-foot high Bear Pass Mountain rises right from the edge of the cove. Between the water's edge and the top of the peak an ancient forest covers the side of the mountain. The boughs of those old-old trees seem to cling to the slowly rising wisps of clouds. Ravens fill this basin-like cove with their throaty "kwork-kwork," calls while eagles whistle from their high perches atop of impossibly tall trees. Multiple waterfalls are visible as they tumble down Bear Pass Mountain forming cold and snow-fed salmon streams. Here the chum salmon run earlier than those in Washington state.
On that day in July we kayaked to a spot where I'd seen a brown bear the week earlier. I figured I might as well check it out again, and sure enough, almost as if on cue, a bear ambled out onto the beach. It was, like the scenery in Cannery Cove, almost unbelievable. My guests followed and we watched the bear eat grass, dig a little around the beach and walk along the water's edge. As I held my kayak in place, dipping my paddle into the water and pulling back slightly, I focused my eyes into the shallows below my boat. The water was clear and I could see a deeper dark-bluish-green channel that lead through the tidally-submerged mudflats at the head of the cove. Something caught my eye. It was a school of chum salmon swimming purposefully through the deep channel. These fish were nearing the end of their life-cycle. Their bodies already showed the changes that salmon go through on their way to spawn in freshwater. No longer were they the sleek and silver salmon of the Pacific ocean, they were now greenish with distinctive purple tiger-stripes. If I'd been able to scoop one of them out of the water, I'd have seen that their mouths were developing a hooked snout and canine-like teeth. These changes were in preparation for their final stage in life — migration up their natal stream for their chance to spawn and to end one cycle while beginning another.
Our cyclical lifestyle is defined by our sailing season and our off-season. We've finished with our wilderness adventures on the David B for the year, and we've prepared it for winter. We've finalized our project list, and put a winter cover over the boat. Is it the beginning of a new cycle? Or the end of the old? It's hard to know and it doesn't really matter where the line is. What does matter is that during this part of the cycle we get to reconnect with past passengers who are planning to return to the David B, and connect with new people who will travel with us for the first time. In a few months the David B will emerge with fresh paint, new varnish, and upgraded systems. Soon after, we will set off for new adventures. And a new cycle.
[pix_dropcap]O[/pix_dropcap]ne night in July as we pulled into a little cove on Admiralty Island we noticed a small camp on the shore of our intended anchorage. There was plenty of speculation on the bridge-deck as to who the group might have been. One thought was that they were kayakers hauled out for the night, another thought was that they were locals out camping. The speculation ended when we were hailed on the radio by a familiar voice. It was Kevin, a Forest Service employee who we'd met several years ago when he was a Wilderness Ranger who patrolled Tracy Arm/Fords Terror wilderness area by kayak. He'd seen the David B cruise past a peek-a-boo opening in the cove.  As he talked with Jeffrey, we learned that the group on shore were all volunteers who had come to Admiralty Island as part of a program of invasive weed eradication. The weed was hemp nettle, a European plant most likely brought to Admiralty decades ago where a cannery was once in operation. We also learned that Harry, our US Forest Service permit administrator, was also on shore, which was exciting because in all the years of running the David B in Alaska, we'd never actually met face-to-face.
We anchored in the unnamed cove which separates Good Island from Admiralty Island. We decided that our evening activity was going to be kayaking and that I'd take our guests for paddle around the cove, while Jeffrey would skiff ashore, chat with the rangers and offer some cookies to the volunteer weed-pullers.
The paddle was pleasant. There were ravens somewhere out-of-sight, but their deep"kwark-kwark" calls were unmistakable. We looked for sea-stars in the shallows and watched salmon jump. A couple of seals followed us at a respectable distance. When we returned, Jeffrey was already back at the David B. He had arranged for Kevin and Harry to come to the boat the next morning to talk about their work, the Wilderness Act of 1964, the Tongass National Forest, and Admiralty National Monument.
The morning broke unusually sunny for Southeast Alaska, and the rangers arrived shortly after breakfast. Kevin began the discussion by talking about the Wilderness Act, pointing out that we were celebrating its 50th year.  He recited from it. It's some of the most beautiful language in any piece of legislature anywhere:
A wilderness, in contrast with those areas where man and his own works dominate the landscape, is hereby recognized as an area where the earth and its community of life are untrammeled by man, where man himself is a visitor who does not remain.
The words were penned by Howard Zahniser, an activist with the Wilderness Society, and after Kevin read those words we chatted about the beauty of the phrase "untrammeled by man," Certainly the scene around us fit that description. The forest was thick with tall spruce and hemlock trees, and a deer cautiously walked on the shore of Good Island, while an eagle soared overhead and another perched high atop a spruce. We talked a long time that morning, maybe longer than we intended, but our guests were genuinely interested in the wilderness and had many questions.
Time past quickly as we continued our discussion about the nuts and bolts of the old act signed into law fifty years ago. Kevin was talking about how the Act affects us all, when suddenly my eye caught something shimmery — a huge school of salmon. I couldn't help myself but shout out, "look, look!"  Alaska never fails to outdo itself. We all stopped to watch school swim close by the David B. The salmon were on their way to spawn and continue the cycle of life. There was nothing more to be said. Mother Nature just had the last word.
Looking Ahead
This is the time, the holidays are nearly over, and in a couple more days it will be back to the January winter grind. The relatives have come and gone, the holiday parties are almost over. It's not too early to start planning something fun for the summer and give yourself something to look forward to during the rest of the cold winter months.
 We Suggest: The Inside Passage
August trips on the MV David B are warm and sunny. Desolation Sound is hot enough that it makes for great swimming (really — often 70°F water and 85°F air temps). We stop there on all of our Inside Passage trips. Or maybe you want to see something new and amazing that you've never seen before, like glaciers calving into saltwater fjords, or whales feeding, or salmon spawning or bears meandering along a remote beach in Alaska. Now, there's an adventure to look forward to!
2014 Trips are Filling Faster Than Ever
The problem is, we're filling up. We are almost sold out for Alaska trips for 2014. We just posted our 2015 schedule because we've had a number of inquiries into dates that far into the future. We're super excited about finally getting the word out about just how amazing trips on the David B are, but it does mean that you might need to plan a little farther into the future. We still have spaces on 2014 Inside Passage trips.
Give us a toll-free call at 877-670-7863 — or send an email.
We'd love to hear from you!
Happy New Year to All ~ See You in 2014!
We'd like to take this opportunity to thank all of you for your patronage and continued support, and look forward to sharing more exciting travel adventures with you in 2014 aboard the MV David. B.
Happy New Year to you and your families, from Jeff and Christine
Don't miss the boat! Call

360-201-8184

or

email

us to book your space.

Read the award winning story about how Captain Jeffrey and Christine rebuilt the M/V David B

Cruising on the

David B

makes people happy!