Time-Lapse into the Back of Fords Terror
Fords Terror is, hands-down, one of our favorite locations. We often anchor there in a bowl that is surrounded by 2000-3000 foot high sheer cliff walls with mature spruce and hemlock trees clinging to the seemingly soilless rock. It's a place where the rain and waterfalls and icebergs create mystical scenes as ravens and eagles fly overhead. Our usual anchorage is amazing, but as always for us, there might be something more just around the corner. At Fords Terror that something more is just on the other side of a narrow constriction and some reversing tidal rapids.
On most trips, we take our guests through the narrows in the skiff. We plan to ride the current in before the tidal floodwater reaches it's highest high for the day and becomes still before the current changes to an outgoing ebb. We typically spend a couple of hours skiffing around, looking at waterfalls, amazing geology, and sometimes even bears. Then, we've always come out on the ebbing current. Jeffrey had always wanted to take the David B into the back, and spend the night. He was curious to see and experience Fords Terror at both high tide and low tide and to see how the back of Fords Terror's beauty changed over the course of a day. It was so magical that we did something we don't often do, we decided to spend, not one night but two nights at anchor there. Below is a short time-lapse video of us going into Fords Terror. We hope you enjoy it.
Video Highlights from our 2018 Northbound Learn to Cruise to Alaska Trip
We love the Inside Passage. It has beautiful scenery and amazing wildlife. From our homeport in Bellingham, Washington, the Inside Passage is a maze of narrow channels, steep fjords, and a wonderland of waterfalls. Every year we offer this trip to people looking for a chance to learn the ins-and-outs of the Inside Passage, from the best anchorages to timing open water crossings, and tidal rapids. If you think this sounds like something you'd be interested in check out our Learn to Cruise webpage.
Time-lapse video of the David B in Endicott Arm
A time-lapse of the David B cruising past icebergs and small islands in Endicott Arm and into Fords Terror on one of our 8-day Alaska cruises.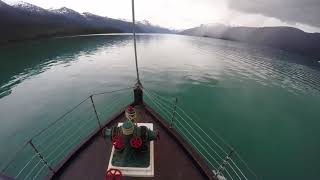 Time-Lapse Endicott Arm to Fords Terror
1/1
Time-Lapse Endicott Arm to Fords Terror

Cruising on board the David B from Endicott Arm to Fords Terror.
Early Bird Pricing for 2018 Cruises
Early Bird Pricing Ends November 1st
Don't miss out!
---
Calling all early birds! Now's your chance to get an Early Bird discount on almost all of our 2018 cruises. If you book before Nov 1, 2017 you'll get our 2017 prices plus $500 off on our 2018 Alaska Cruises* or $200 off on our 2018 San Juan Islands cruises. If you book now, get the dates you want and save a little cash too!
Find your trip dates on our 2018 & 2019 Schedule here!
Contact Sarah for more information or to make your reservation.
*Please note that early bird pricing does not apply to our Photography or Guest Naturalist Cruises.
Every so often we get a chance to see something a little unusual. One day while hiking at Fords Terror, we stopped to watch the reversing tidal rapids when a medium sized iceberg got sucked through.