New Glacier Bay Photography Cruise
This is really exciting! We are teaming up with AdventuresNW Magazine editor John D'Onofrio, and Quicksliver Photo Lab's Digital Imaging Specialist and instructor, Alan Sanders for an 8-Day Photography Cruise in Glacier Bay.We've been working with John and Alan over the last several months to develop a special cruise for photographers that combines all the excitement of our Alaska trips with hands-on intensive instruction, new techniques for photography, and nightly constructive critique sessions.
If you've been on the David B before, you know I'm a complete and total Shutter Bug and having a chance to have two great instructors aboard the David B makes me absolutely giddy! I'm looking forward to this trip as a way to share the beauty and magnificence of Glacier Bay with you, as well as, having the opportunity to learn a whole lot more about how to take great photographs!
If you'd like to join us on this special cruise, visit our website for more information or give Sarah a call at 877-670-7863 or send her an email.
Glacier Bay Photography Cruise
Trip Number: 295
Dates: May 22-29, 2017
Boards/Returns: Auke Bay (Juneau)
Rates Per Person: $5600 (Special Introductory Pricing – $300 off 2017 rates!)
In the meantime, please enjoy the little video below I made from a trip we did last summer to Glacier Bay with Captain Jeffrey's family and a couple of our good friends.
Fair Winds,
Christine
Dalls porpoises riding on the David B's Bow
Something I look forward to every year when we are running trips on the David B are the occasional visits by Dalls porpoises. These mid-sized sea mammals that looks deceptively like baby killer whales love to surf bow wakes. We often see them in the Inside Passage and Alaska. Usually they are foraging for fish, but sometimes, they turn their attention to the David B. It begins with seeing their characteristic rooter-tail splashing a ways off, and with surprising speed, they soon rush up alongside of the boat, and then they begin jockeying for the prime spot just in front of the boat's stem. It's a thrill to watch their speed and their agility.
Here's a little complication of a few of the amazing experiences we've had with surfing Dalls porpoises.
Tin Hat Update – Welding, Windows and More
This week saw lots of progress on the Tin Hat Project. We stopped in at Fluid Fabrication to see how things were taking shape. They'd begun assembling the framework for the front of the pilothouse. It was the first time we got to see the curving lines of the new house for real. We're not sure exactly how long it will take them to finish welding, but my feeling is soon. Maybe just a couple more weeks until we can bring the boat over and have the house put on.
While the welders have been busy, Jeffrey, Tim, and Greg have continued on all of their
projects. Jeffrey's work on the refrigeration system is shaping up nicely, and Tim's been steadily preparing the boat so we can quickly and efficiently install all the systems in the new pilothouse. Greg's been turning out windows and doors all week. Our good friends Pete and Jackie graciously loaned us the use of their garage to set up a varnish shop, and with the help of their daughter Naomi, I got started on the bright work. I also put together a little video for you to enjoy…
-Christine

Some days are simply perfect. The weather's warm. The skies are blue. The water flat calm, and the line between sea and sky is almost indistinguishable. We had a day like that in August. It was the kind of day that happens every-so-often in the temperate rain-forest climate of southeast Alaska. It was the kind of day where all the conditions were just right for watching humpback whales. Not only could we stop to watch, but we were able to turn off the engine and drift silently. Without background noise from the boat, we were able to experience something different. All around us, and spread out over several miles were humpback whales in groups of two or three, and alone. All foraging.  When they would surface, their breath would make an explosive "swooshing" sound. Atomized water particles hung still in the air marking the spot where they had come up. It was hard to know where to look. The sounds of whales surrounded the boat. They would sometimes surface near to the David B. Other times they'd be distant. We just drifted upon the open water; watching, listening, observing.
Our only real plan for that day was to anchor in the evening somewhere at Admiralty Island or Baranof Island. We didn't have any concrete plans for the day. Having an itinerary means you have to get somewhere, and when nature presents something beautiful and awe inspiring to enjoy, an itinerary means you just have to put on your blinders and keep going. So there we were, sitting around listening to whales. We'd also dropped a hydrophone (an underwater microphone) over the side. The small amplifier on deck that the hydrophone was plugged to revealed all kinds of whale sounds from funny-bawdy to ethereal. From my spot on deck, I could see couple of whales surfacing about a quarter mile away. It soon became evident that they were heading our direction. Everyone on deck turned their attention to these whales. They moved in a straight line. We watched. Each time they broke the surface, they were closer. Soon, one whales was close enough to see it under water –it's
long pectoral fins faintly glowing against the deep dark water. Over the amplifier, a couple barking sounds and some bubbles could be heard. Then a few seconds later, a whale surfaced just off our starboard side. It lifted it's fluke high and dove under the boat. Farther aft, the second whale surfaced and dove as well. There was a moment of joy, then wonder. I wondered why they chose that path? Where were they going? What did the sounds mean? How long would they remain under water? Where would they surface next?
A few minutes later they surfaced again along the same line. I assumed they were traveling to a spot with more food, but I don't really know what they were doing or planning. We hung around a little while longer. Jeffrey started the engine up, and we picked our way around other foraging whales. In the evening, we anchored in a little cove at Baranof Warm Springs Bay. As I made dinner, I reflected on the day, our luck, and I thought to myself, "it couldn't possibly get any better than this."
Please note – For full screen click on video, then click on" [ ]" in lower right corner.
When people ask what I do for a living, I respond that Jeffrey and I run a tour boat in Alaska, and if that leads to a longer conversation, I usually continue on about how we spend lots of time watching humpback and orca whales, and how we have a couple of spotting scopes on the boat so we can watch bears forage on the beach. Rarely do I run on about how much I love watching crows and other common animals. This is partly because, like weeds, the virtues of crows remain undiscovered for most people.
I find crows fascinating. They help me fulfill my need for nature during the off-season at my urban home where there are no deep-wilderness animals to geek-out on.  Sometimes the crows tell me what's going on in the neighborhood. Like the time when a raccoon was out wandering during the day. I heard what I like to call a "crowmotion" a few block to the east. The crows were noisily and excitedly moving through yards and alleys. I stepped out the backdoor to see what all the fuss was about. As soon as I opened the door a raccoon came into my yard seeking refuge in a tall cedar tree. Unfortunately for the raccoon, there were already two other raccoons sleeping there and the poor thing was forced to move along. I watched it leave the tree and cross the street. I lost track of the raccoon as it ambled into the neighbor's yard, but the crows continued their parade "cawing" and flying from tree to tree for several blocks.
I've learned a lot from observing crows and that with their help, they often lead me to exciting discoveries. One time I was kayaking close to shore in a cove in Alaska. It was a calm overcast day. I was looking for sea stars, crabs, and small schools of fish. I kept my attention focused on the water below my boat. After a while my ears picked up the sound of several crows in the bushes to my left. The crows were going on and on about something. I half listened thinking there was probably an eagle in a tree. I decided to look up. No eagle. I went back to skimming along the surface and searching the shallow water. They crows kept talking. I looked up again and decided to see if I could find the focus of their attention. I held my boat still by gently padding the water with my paddle. I watched. The crows were clustered low on the branches of spruce, hemlock, and alders. I looked at where they were looking. A branch moved. The tide was high and I was maybe 30 feet from the edge of the forest. I held still and smiled to myself as my eyes made out a dark fuzzy round shape with two more fuzzy round shapes on top. The animal was partially blocked by shrubs and very difficult to see. The crows had discovered a brown bear and wanted everyone to know. I had listened.
There have been many other times that the cues of common animals have increased my awareness. I've watched gulls flying in a straight line, then suddenly circle. Most of the time it's a fish coming to the surface, but sometimes it's a whale. One day I realized that I often say things like, "Oh, that's just a crow", or, "It's just a gull," when really, they are so much more than "just a." They are communicators and lively participants in the ecosystems and habitats of which we are part. If we pause to listen to them, we might discover they know things that will truly enrich our lives.
The Best Hike on Cypress Island – Eagle Cliff
This story was originally published at CruisingNW.com and can be read there in its entirety. 
Where the skiff meets the beach the sound of hundreds, if not thousands of small-flat weathered rocks clatter and scrape against each other as if in protest of having to move out of the way. I feel the same protest from under my Xtra-Tuf boots as I hop out of the boat and onto Pelican Beach at Cypress Island. The shore, as far as I can tell, is made up entirely of skipping stones, accented by a few large weathered logs. Once again, I think, no pelicans, and to the best of my knowledge few, if any have ever visited here. Maybe someone, some day will tell me the story of how Pelican Beach got its name.
It's always tempting to sit down on a log and mindlessly sort through rocks, or spend the day watching the changing moods of Mount Baker while boats cruise though Bellingham Channel. The reason I continue up the beach is the 1.3 mile hike to the top of Eagle Cliff. It's a moderately strenuous hike, but the effort is rewarded with one of the best views in the San Juan Islands.
Cypress Island is unusual in the San Juan Islands. It's heavily forested and virtually unpopulated. As the fifth largest island in this highly developed archipelago it's remarkable that 91% of the 5500 acres of land on the island is public. Cypress Island is managed by the Washington State Department of Natural Resources (DNR) and most of the land operated as a Natural Resources Conservation Area that's reserved for outdoor recreation like the hike to Eagle Cliff, and the rest is protected as a Natural Area Preserve.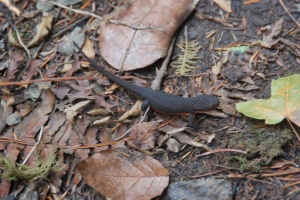 The hike to Eagle Cliff is through a predominantly Douglas fir forest, but there are also Western red cedars, Western hemlocks, and big leaf maples. I look forward to whatever I might find in the forest. My favorite two animals on Cypress are the poisonous rough skinned newt and the banana slug. As I walk the trail…Continue Reading at CruisingNW.Com.
Traveling When You Were Young
Traveling When You Were Young
Traveling as a kid was so much fun. You didn't have to worry about anything and you still got to enjoy all the same sights.  You could watch the world go by, albeit from the backseat window, but you still could see it all. Someone else took care of making sure you got there and making reservations and all that. All you had to do was look out the window and enjoy the ride.
When you finally arrived, you got to explore and find things: the ice machine at the hotel, or the trail to the beach from the campground. It was un-scripted. You could run off and play and "discover" stuff. I even had my own little Instamatic camera that I could use to take photos of the cool stuff I found.
Traveling Aboard the David B.
Cruising aboard the David B is a lot like traveling when you were young. Yeah, you do have to make your own reservations and get yourself to the boat, but once you're aboard, you really can just look out the window and enjoy the ride. You can go for a hike and "discover" a few new things (and they're going to be way more exciting than an ice machine.) You can paddle into a cove you've never seen before. You can watch the world go by out the galley windows, or you could also watch it from the Bridge, and capture it with a camera that's a whole lot better than that one from 1965. And you still won't have any of the responsibilities.
Someone else will make sure you get there.
Don't miss the boat! Call

360-201-8184

or

email

us to book your space.

Read the award winning story about how Captain Jeffrey and Christine rebuilt the M/V David B

Cruising on theDavid B

makes people happy!
Christine to Talk at Northwest Women in Boating's November Meeting
Low tide is one of the best times to kayak at Sucia Island. One sunshine-y fall day I took several of our guests for a paddle along the wind-and-wave-sculpted sandstone that makes up Sucia. My guests were agreeable to a slow paddle where we could inspect the sea life that lives just below the surface. The easiest animals to find were sea stars:  giant pink stars, purple sea stars, sunflower stars, and leather stars. A few of the purple sea stars and leather stars were exposed on the rocks giving us the opportunity to reach out and feel the difference between the two species.
Below our kayaks we watched several types of small fish including a school of bay pipefish that  look like a straightened sea horse. There must of been many other fish in deeper water even though we couldn't see them, since we spotted several seals hunting.
We glided along, talking about the creatures hidden in the rocks and seaweed. We discovered many of them by focusing on the slightest movements or a differences in color. We found chitons, sea urchins, sea anemones, crabs, and two kinds of sea cucumbers — the California sea cucumber and  the orange sea cucumber. We could have spent all day looking and watching the intertidal world and not see it all.
Our paddle lasted about two hours. I was a little reluctant to end our time at Sucia, but it was nearing lunchtime and time to return to the David B. Besides we had other adventures awaiting us.