Take 30% Off Alaska Cruise
We have two available last-minute spaces on Trip # 376 – Alaska's Inside Passage with Pack Creek Bear Viewing. This is an amazing trip filled with tidewater glaciers, whales, hiking, and kayaking. The highlight of the trip is a visit to the Pack Creek Bear Viewing Area, a special location on Admiralty Island, known as Kootsnoowoo  (meaning Fortress of the Bear) by the Tlingit. This area was set up by the US Forest Service for visitors to watch brown (grizzly) bears in the wild. It's also one of our favorite places, and spring is one of the best times to watch bears do their bear things. Love is in the air and getting to watch brown bear courtship is better than any soap opera.
These spaces are open to anyone who is or will be fully vaccinated against COVID-19 at the time of sailing.
Dates: May 18-25, 2021
Departs: Juneau, AK
Disembarks: Petersburg, AK
Available Cabin: Keta with 2 extra long twin bunks and private ensuite head
Cost: Regularly $6800. Now special price: $4760 per person
We hope to see you aboard the David B!
Christine
PS – If you have any questions about any of our trips in Alaska, the San Juan Islands, or the Inside Passage, send Sarah an email or give her a call at 360-474-7218.
PPS – Also, if you would like a private tour of the David B contact Sarah to schedule an appointment for our spring Open Boat is this weekend, April 10 or 11.  Each appointment will 30 minutes with a 15-minute gap between appointments. The maximum group size will be 5 and masks will be required.
Alaska Trips Not Affected by Ban
PRESS RELEASE:
Northwest Navigation Company's Motor Vessel David B Alaska Cruises Unaffected by Canada's Cruise Ship Ban
BELLINGHAM, Wash., Feb. 17, 2021 (SEND2PRESS NEWSWIRE) — Northwest Navigation Co., which operates the small cruise boat, M/V David B in Alaska, is unaffected by Canada's recent extended cruise ship ban for the summer of 2021. The company will still be offering multi-day cruises this summer, as are a number of small US-flagged Alaska boutique cruises, yacht charters, and niche market adventure cruises that specialize in remote wilderness small group tours.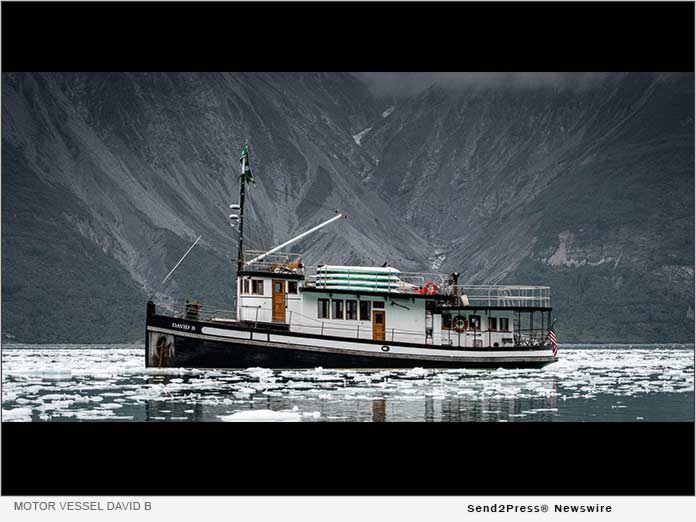 Canada's ban on cruise ships with over 100 passengers may force major cruise lines that are registered in countries outside of the United States to cancel their Alaska sailings due to laws that require those ships to stop in countries outside the United States. As one of several small US-flagged vessels that operate with 12 or fewer passengers, the David B is unaffected by Canada's ban and will be able to continue regularly scheduled operations in southeast Alaska.
"Most people are not aware that there is a class of small American boats which run tours in Alaska," says Christine Smith who's the co-owner, chef, and naturalist aboard the David B. "Boats like ours are unique, for example, we have a maximum of just eight passengers. Some of our closest competitors carry only 10 or 12. The boats are big enough that we've always given people plenty of space. There's never been a good name for our niche, but some people call us a micro-cruise, boutique cruise, small boat or small ship cruise. We offer light impact eco-tours that are more on the adventure side of Alaska cruises. We focus on being in nature and visit wilderness locations for our anchorages, hikes, and kayaking excursions."
If Canada continues with its ban on cruise ships, Alaska's economy will be adversely affected. A recent article in the Washington Post noted that only 48 passengers cruised Alaska in 2020. "We operated last summer too, but because of our small size I don't think our passengers were even included in the tally," Christine said. "We're a very niche market. You really have to look to find boats like ours. But for the people who do find us this year, they'll see a quieter Alaska, even if the large cruise ships find a way around Canada's ban."
For more information about Northwest Navigation visit: https://northwestnavigation.com/
About Northwest Navigation Co.:
Northwest Navigation Co. is based in Bellingham, Washington, and owns and operates the Motor Vessel David B. Since 2006 Northwest Navigation has offered multi-day, small boat tours in Alaska and Washington state. The David B is an historic 65-foot boat originally built for Alaska's salmon fishing industry in 1929. Jeffrey and Christine Smith started Northwest Navigation in 1998 with the purchase and restoration of the David B.
Vessel Image 72dpi: https://northwestnavigation.com/wp-content/uploads/2021/02/David-B-Image-72-dpi-scaled.jpg
Logo 72dpi: https://tinyurl.com/nwnav-logo
MEDIA CONTACT
Sarah Kirkish
Office Manager/Reservations Specialist
360-474-7218
sarah@northwestnavigation.com
News Source: Northwest Navigation Co
Alaska Photography Workshops
"Every day was filled with wonder." –  Denise L., Trimble, MO.
Why choose a small ship adventure aboard the David B for your next photography workshop?
Because the 65-foot David B will take you to wild, remote, and unbelievably beautiful locations in southeast Alaska, including Glacier Bay National Park.
Because you will have the time to immerse yourself in nature while you practice the art of photography.
Because our instructors are there to help you as much or as little as you want so that you can focus on your craft.
As far as travel on the boat goes:
…there is no mail to read and answer; no newspapers to excite you; no telegrams to fret you or fright you—the world is far, far away; it has ceased to exist for you—seemed a fading dream, along in the first days; has dissolved to an unreality now; it is gone from your mind with all its businesses and ambitions, its prosperities and disasters, its exultations and despairs, its joys and griefs and cares and worries. They are no concern of yours any more; they have gone out of your life; they are a storm which has passed and left a deep calm behind.
-Mark Twain 1898
Following the Equator
We think that Mark Twain expresses life aboard best, and after the year that was 2020, we would like to offer you all of that, plus a fun, creative, and active way to enjoy creating photographs.
For more details about any of our photography workshops, keep scrolling, visit DavidBCruises.com, or contact us at 360-474-7218 or send us an email.
Warmest Regards,
Captains Jeffrey and Christine Smith
Owners/Operators Motor Vessel David B
Alaska's Fjords with Pack Creek Bear Viewing
Opportunities to capture memorable images of the stunning scenery and epic wildlife (think: whales, brown and black bears, porpoises, moose, sea lions, otters, mountain goats, eagles, wolves, etc.) will be plentiful as we trace the complicated waterways of the northern Inside Passage.
Dates:
May 28-June 4, 2021 – 2 spaces left!
May 27-June 3, 2022
---
Southeast Alaska's Fjords with Adventures NW Magazine

The Tracy Arm / Fords Terror Wilderness is one of southeast Alaska's premier locations for landscape and wildlife photography. This remote wilderness is only accessible by boat and is one of the best options to photograph tidewater glaciers, deep canyon-like fjords, and wildlife, such as humpback whales, killer whales, and brown and black bears.
Dates:
June 27-July 4, 2021 – 4 spaces left!
June 26-July 3, 2022
---
Glacier Bay Photography Workshop with Matt Meisenheimer Photography

Explore Glacier Bay National Park and take beautiful photographs. This hands-on workshop will give you the opportunity to immerse yourself in dynamic landscapes and search for iconic wildlife.

Dates: July 7-14, 2021.  2 spaces left!.
---
Glacier Bay Photography Workshop with Adventures NW Magazine
During this interactive workshop, you'll have an opportunity to make photographs aboard the M/V David B as we cruise the awe-inspiring waters of Glacier Bay, exploring and photographing from the boat, skiff, and on land.
Dates:
July 17-24, 2021 – 4 spaces left!
July 16-23, 2022
---
San Juan Islands with Adventures NW Magazine
The San Juan Islands, located in Washington state, are a world-famous cruising destination and also an absolutely amazing place for nature and landscape photography. Because we believe in exploring and examining the beauty of nature, we've teamed up with Adventures NW Magazine for an exciting, hands-on photo workshop aboard the M/V David B.
Dates:
September 30-October 3, 2021 – 6 spots available!
September 29-October 2, 2022
Preparations for a New Year
There have been a handful of times we've waited out a storm while tucked into some comfy cove. As the storm blows through, the gusts of wind pull on the anchor chain and the boat swings. Sometimes a gust will blow so hard it yanks the boat with a big shake. As the storm rages, we shelter at anchor and watch the wind speed. We check to make sure the anchor holds. We wait. We watch. We play cards. We bake cookies. We ride out the storm.
Eventually, the wind calms, and the skies begin to clear. This past year has felt like one long storm that won't ever let up. At times we've wondered if our figurative anchor would hold. But now there are days where it feels like the storm is just beginning to ease and the skies are starting to clear. Sure, there are still big gusts out there that can blow us around but that won't stop us from planning for this new year.
Our 2021 season is scheduled to begin on April 22 with our sold-out northbound Learn to Cruise from our home port in Bellingham to Ketchikan. As we look ahead we're excited to once again see we have a busy season in front of us. Over the last few months, we've been working on lots of big and small projects. Jeffrey recently completed a realignment of the engine and replaced a couple of bearings on the thrust shaft. Next month, we will be hauling out and we plan to have a new rudder installed, so in some ways it all seems normal. But the virus is still with us and it's still a consideration as we plan for the new season.
We are updating our COVID-19 policies regarding vaccinations, travel to the boat, hotel stays, deposits, and reservations. We're hoping that vaccines will be widely available so that people who want to travel with us can be vaccinated. Nevertheless, we might have to fall back on the COVID-19 policies we put into place for the 2020 season, which we found to be effective. Because the situation continues to change rapidly we will continue to keep you informed.
In the meantime, we will continue to prepare for 2021 and we look forward to seeing you in the near future.
Stay well,
-Christine
PS – If you have any questions about any of our trips in Alaska, the San Juan Islands, or the Inside Passage, send Sarah, an email or give her a call at 360-474-7218.
PSS – I almost forgot to mention, but we will be having an Open Boat over the weekend of April 10 and 11. It will be a little different than our usual as we will be showing the boat by appointment only. Each appointment will 30 minutes with a 15-minute gap between appointments. You can email Sarah for availability. We'll have more info coming soon!
Sealions – The Grizzly of the Sea
Southeast Alaska is home to the Steller's sea lion and these amazing animals are one of the most common marine mammals that we get to see aboard the David B. There are several haulouts in our cruising area and it's a real experience to get to watch, hear, and smell a crowded haulout. One interesting tidbit about these sea lions is that their skulls are virtually indistinguishable from the skulls of grizzly, or coastal brown bears, as they are known in southeast Alaska. We once had a deckhand who liked to describe Steller's sea lions as a grizzly stuffed into a tube.
A Visual Meditation
Take a few minutes to escape into John D'onofrio's beautiful photography set to haunting flute music. He put together this short meditation to inspire those of us who dream of great landscapes in distant lands. John is one of our photography instructors and this slideshow video is from several years of trips with us in Glacier Bay National Park.
Sometimes we will be sitting in an open area watching whales when one will surface and swim towards us. There are so many beautiful sounds: the whales's breath, the sound of water cascading off its body, and the laughter and joy from our passengers.
Taken on one of Marine Ecology of Southeast Alaska trips.
The Blues of Reid Glacier
Growing up, my favorite color was always blue. Maybe that's why I enjoy bringing people to glaciers so much.
This is from Glacier Bay Nationa Park's Reid Glacier. There was just a little space at the edge of the Glacier where if you looked just right you could see under the glacier. It wasn't big enough to be a cave, but its icy blues were tantalizing. To learn more about our photography workshops in Glacier National Park…
Sundew, the midge eating plant
Sundew are some of the coolest plants we get to show our guests. They catch insects in their sticky dew-like secretions as a way to get nutrients that are not available in the nutrition poor muskeg. They're also small and easily missed.
This photo was taken on one of our Petersburg to Juneau Alaska Inside Passage cruises in June of 2019.
Once upon a time, this Glacier was a tributary to Dawes Glacier in Endicott Arm. Now it's a peek-a-boo reminder of a cooler time when glaciers filled Endicott Arm. One thing I like to think about as we pass this particular glacier is how you can see in the vegetation that the glacier had been in its valley as recently as 50 years ago. That's because the low shrubby willow and alder are considered pioneer plants that are slowly helping to make soils. As time passes trees like cottonwood will begin to grow and eventually those trees will be replaced with a spruce and hemlock forest.
This photo was taken our Southeast Alaska Fjords Photography Workshop. To learn more about this trip click here.