I keep a little journal and I thought you might like to see what I wrote about. I titled it Epic Glacier Day
May 26 – 0544  Epic Glacier Day:
woke up in front of Reid Glacier.
Actually, Epic Glacier Day (EGD) really started the day before when we dropped anchor and spent several hours ashore at Reid glacier's snout taking pictures as part of our photography workshop cruise. EGD started by waking up anchored face to face with a massive glacier. As I prepared coffee and breakfast, I occasionally walked outside to stare at the glacier and to listen to the sounds of the glacier's rushing meltwater streams and waterfalls. The water sounds would occasionally be interrupted by the calls of some of my favorite birds – black oystercatchers. Although small bits of ice floated in the inlet, this glacier no longer calves big icebergs into the water. It has retreated to rest on a mudflat, and high tides now only kiss Reid's wide icy snout.
went to Johns Hopkins then Margerie
We made a stop at Lamplough Glacier, which sits like a watchdog to the entrance of Johns Hopkins Inlet. The sky had cleared to a bright blue. We paid our respects to Lamplough and entered Johns Hopkins Inlet for a view of Johns Hopkins Glacier as it spilled into the inlet from the impossibly high and jagged Fairweather Mountains. After witnessing an enormous avalanche spill onto the glacier, we turned to continue EGD with our fourth and fifth glaciers – Margerie and the Grand Pacific.
spent a couple hours at Margerie in the skiff
We anchored in Tarr Inlet about a mile away from Margerie. It had recently been active. Small bergs and brash ice floated past our anchorage. Hundreds of black-legged kittiwakes were nesting about a half-mile away. Margerie glacier is beautifully showy with the whitest ice and actively calving. The Grand Pacific seems shy and more sedentary. It's covered in a blanket of dirt and rock, and seldom calves. It seems content to let Margerie have all the attention.
We lowered the skiff for the best part of EGD — a ride to the face of an active tidewater glacier.
a humpback surfaced next to the David B at anchor
Not long after we got the skiff in the water a humpback whale entered Tarr Inlet. I surfaced twice nearby the David B, and one of the surfacings was really close to the skiff.
-6-10 sea otters on icebergs
We kept our cameras and our focus on Margerie. We waited to capture the moment that a tower of ice would fall into the water. We made bets on where ice would fall from, and we held hopes that a big one would let loose.
While watching the glacier, a group of sea otters swam along the floating ice, and an eagle landed on the great face of the glacier. No visible part of Margerie was left unphotographed. Every peak, every icy spire, every kittiwake, and every iceberg was part of this magical landscape. I felt the need to absorb it all. To capture every sight, every sound, every emotion. To hold on to this moment for as long as possible. I wanted
to wrap it all up, take it home, and share it with anyone who needed a good dose of Mother Nature.
I didn't write anymore but we remained anchored in Tarr Inlet that night. I remember that from time-to-time we could hear the boom of ice calving off Margerie, the sounds of the kittiwake colony, and the silence of nature. Magnificent mountains surrounded us. The sun dipped behind the peaks, and again another boom and more ice would be spilled.
It was the perfect Epic Glacier Day.                                                                                      
-Christine
Winter Happenings on the David B – Tuning Up the Engine
Winter is always a busy time on the boat. It's when we do maintenance, make upgrades, and take on projects. Unlike last year when we built the new pilothouse, this year is a little more mellow. Our biggest project this winter is to do an engine overhaul, which means we're removing the heads, cylinder liners, and pistons. We'll check the piston rings, change the gaskets, and fix a water leak in the cooling system. In addition to the big stuff, all the small parts will be cleaned and checked before we reassemble the engine, and Jeffrey will be adding new sensors, so we can monitor the engine more effectively.
We put together a quick time-lapse video showing us lifting the #3-cylinder head off the engine.
Time-lapse video of the David B in Endicott Arm
A time-lapse of the David B cruising past icebergs and small islands in Endicott Arm and into Fords Terror on one of our 8-day Alaska cruises.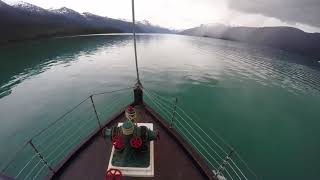 Time-Lapse Endicott Arm to Fords Terror
1/1
Time-Lapse Endicott Arm to Fords Terror

Cruising on board the David B from Endicott Arm to Fords Terror.
Article by our passenger Stacy Shearman on the Inside Passage
We would like to say THANK YOU to Stacy Shearman who wrote a wonderful review of her cruise with us this past summer. Her trip was our Southbound Inside Passage Cruise that began in Ketchikan, Alaska and ended in Bellingham, Washington.
I hope you enjoy!
-Christine
Early Bird Pricing for 2018 Cruises
Early Bird Pricing Ends November 1st
Don't miss out!
---
Calling all early birds! Now's your chance to get an Early Bird discount on almost all of our 2018 cruises. If you book before Nov 1, 2017 you'll get our 2017 prices plus $500 off on our 2018 Alaska Cruises* or $200 off on our 2018 San Juan Islands cruises. If you book now, get the dates you want and save a little cash too!
Find your trip dates on our 2018 & 2019 Schedule here!
Contact Sarah for more information or to make your reservation.
*Please note that early bird pricing does not apply to our Photography or Guest Naturalist Cruises.
Lesson learned from Little Bear
More than anything else, I love to be in places where I can observe animals. For me, every encounter with wildlife is special. Most of the time these encounters are nothing more than a brief glimpse or a snapshot into a creature's daily routine. But each time I observe I learn something new about animal behavior and also about myself.
I find bears especially captivating. I love watching how they move, how they make decisions, how they find food, and where they choose to be. I love watching old bears, and young bears, baby bears, and mama bears. I love watching brown (grizzly) bears and black bears equally.
Some encounters stand out. In July this past summer, it was a was a young brown bear. We'd been watching it through binoculars from the David B the night before. The bear had come down to the beach at low-tide to try its hand (or paw, I should say) at fishing. It was alone and seemed to be new at the solo-life of a bear. We speculated that it had recently been run off by its mother and was trying to remember the techniques it had been taught as a baby bear. The bear was trying to pounce on the fish by running and jumping into the creek with its big paws spread wide.  Each time it came up empty pawed. We watched it for over an hour.
The next morning, the bear, which we affectionately started calling Little Bear, was back on the beach at low-tide. We found it at a different braid of the stream while we were exploring the bay in the skiff. Little Bear was again working on the nuances of fishing, and it appeared it was still coming up empty pawed. Jeffrey kept the skiff offshore in deep water, but close enough that we could watch. Little Bear, strutted around in the water looking for fish. When it found some, it would pounce, and splash, and pounce again.
When it noticed us watching, it ran a short distance along the shoreline with an attitude that suggested we were not welcome to share the fishing hole. Jeffrey backed the skiff. Little Bear was satisfied that we were not a threat, and went back to fishing.
As I've thought about Little Bear this fall, I've come recognized how hard it is for animals to make it. A young bear has a lot of obstacles to overcome. Young bears don't often get the best places to forage for food, or the best territory. Young bears like Little Bear are a lesson in persistence. They have to keep trying to catch those fish, no matter how many times they come up empty pawed. That's what I love about watching wildlife. Life lessons. Lessons that make me smarter, wiser, and more in tune with nature.
As winter sets in, I hope that Little Bear is fat and happy with a big belly full of salmon.
-Christine
PS – If you'd like to have an experience like this, be sure to visit our Alaska pages or simply contact us. Jeffrey and I would love to share moments like this with you.
Photographing the Kittiwakes in Glacier Bay
One day in May we anchored the David B in Tarr Inlet. We were in the middle of our Glacier Bay Photography Cruise. It was a beautiful, clear, sunny day with both the Grand Pacific Glacier and Marjorie Glacier in view. Marjorie had been active. The floating ice that had calved off was scattered all around the inlet. Most of it was of small bits of brash with the largest icebergs about the size of a city bus. On both large and small chunks of ice were little gulls called black-legged kittiwakes — my favorite bird of the moment. Not far from our anchorage there was a cliff with hundreds more, some on nests, some circling in the air, making the cliff face a distant bee-hive of activity.
Several flew past the David B making their distinctive "ki-ti-waak" call. The call is how they got their name. They frequent places like Glacier Bay to nest during the summer months then spend their winters off-shore.
Not long after the anchor was down we all got into the skiff with our cameras and favorite lenses to skiff over to Marjorie Glacier. On the way we made a special side trip to the cliff with the kittiwakes. With our lenses pointed up and with stiff necks, we shot photos. From my sea-level vantage some of their nests seem to cling precariously to the cliff. We listened to the chatty colony. In the skiff, we were lost in our own photos, watching, listening and concentrating on our own individual birds. We checked exposures, and asked the instructors questions while we took in the dramas that were unfolding in front of us. There was the thrill of wondering what was going to happen next.
Occasionally two kittiwakes would engage in an aerial dogfight. The combatants would lock beaks and come tumbling and cartwheeling out of the sky, sometimes hitting the ground or water, or even tumbling down the cliff and landing in the fjord. At one point a bald eagle flew towards the colony. Would the eagle steal a chick, or would it just perch? How would the colony respond? We trained our lenses, and talked about what was happening. The eagle circled a few times, to the great displeasure of the kittiwakes. Their cries were almost deafening, then finally it perched on a ledge away from the colony. It kept to itself and sadly was too distant for a good picture even with my zoom.
With all the excitement, I kind of lost track of time, so I'm not sure how long we spent at the cliff before moving on to Margarie Glacier, but it long enough that we got to enjoy watching, photographing, and chronicling a tiny snapshot of life in a black-legged kittiwake colony. I came away with a deeper love for these birds and the lives they live, and I'm sure the others in the skiff with me came away with their own interpretations and appreciations.
As I go through my photos from this year's Glacier Bay Photography Cruise I can't help but feel the growing excitement that we'll be back again next spring for two more Photography Cruises in Alaska with instructors John D'onofrio and Alan Sanders. One in Glacier Bay and the other in Tracy Arm / Fords Terror Wilderness and the Admiralty Island / Kootznoowoo wilderness. I'm excited because it's a chance to get out in the wilderness, use my camera, see nature, and learn more about taking better pictures. If you'd like to know more, visit our Glacier Bay Photography and Alaska Photography pages and our schedule page for dates and availability, or contact us.
-Christine
By Christine Smith
Orca at Wood Spit
Earlier in the day we were underway and heading into Holkham Bay with the intention of going for a hike on Wood Spit. Off in the distance, we spotted a couple of killer whales. They were moving fast and entering the bay. We tried to follow, but lost them as they swam quickly and entered the adjacent Endicott Arm. Jeffrey and I talked about the likelihood of seeing them again after our walk at Wood Spit.
So we anchored the David B, lowered Skiffy-a-saurus into the water, and off our group went for our walk. We poked around in tide pools and looked for bear tracks in the mud and sand. We entered the forest and felt the squish of thick moss on bear maintained trails. We identified plants and talked about ecology, and spotted a black bear.  At one point Jeffrey radioed me to say that Wilderness Ranger Chrissy was nearby and that we could meet up with her on the beach. After a little planning, we set out across the spit covered in shoulder-high ferns to meet Chrissy and talk about the wilderness area that was all around us.
While we were chit-chatting, we heard the distinct blow of a surfacing killer whale. It stopped all conversations. We watched mesmerized as two mammal-eating killer whales searched the bay for food. They came within 200 yards of the beach, and we were transfixed as they skirted shallows and searched icebergs. It was a beautiful encounter and we watched them swim round the end of the point. We thought it was the last we'd see of them…we were wrong.
We said our goodbyes to Ranger Chrissy and radioed for Jeffrey to come pick us up. On our way back to the David B, the whales surfaced next to us. For the next hour the whales showed us how to hunt seals. We sat in the skiff with the motor off. The whales swam in circles at times, or in straight lines. They alternated which one was at the surface. We watched them make a kill. Their speed and grace was amazing. It was pure nature and we got to watch. It was a chance encounter and another chance to discover more about a world we seldom see.
Orca leaving Wood Spit
Skiffy-a-saurus Wins Again!
Skiffy-a-saurus Wins Again!
By Jeffrey Smith
We built a new skiff for this season and we've been really loving how much it's changed things.
It was kind of a last minute decision, and the builders really rushed to get it done for us. We only loaded it on board the day before our season started, It's huge by comparison to our old skiff (which by an interesting requirement at the Alaska Department of Fish and Game, had been known as Skiffy.)  The new one is so big (to us) that we named it Skiffy-a-saurus.
We use it for all the things we used to do. It's really good and stable (people can stand up and move around while we're moving) and it easy to climb in and out of at the beach. We're using it for getting into kayaks too, but but now we've added a couple other activities to our skiff repertoire. The best one– skiff exploring.
We didn't use Skiffy much for exploring, because it's capacity was so limited, usually only half the group, but now, everyone can go at once. Now when we get to a new cove or harbor and drop the anchor, we all pile in Skiffy-a-saurus and head out to explore the shoreline. We putt along at 3 or 4 knots, sometimes shutting down the motor to drift and listen, and really get to see what's there. On this last trip alone, we watched eagles and gulls, saw deer feeding at the water's edge, spied on crab crawling across the bottom, even drifted while harbor porpoises and icebergs circled the boat. But the best one yet… We watched a brown bear right up close!
Barnacles for Breakfast – Paw licking good!
It was morning, just before breakfast. The sun was lighting up one side of the little fjord we were anchored in. The other side was still in the shade. A brown bear swam across from the sunny side into the shadows on the other side. It was probably a half a mile down the shore. We watched it for 15 or 20 minutes, then Christine suggested we go take a look with Skiffy-a-saurus. Everyone got their cameras, and we all quietly climbed in.
.
I headed us over to the shore, then hugged the shore as I idled us close to where he was. At about a hundred feet from the bear, I shut down and let the tide carry us along the shore. We were just feet from the rocky edge. Slowly we got closer and closer, The grizzly didn't seem to notice (or care) that we were there. No one made a sound. When we were even with him on the beach we were probably only 30 feet away! About 15 of that was deep water, so we calmly took pictures and watched as he poked among the rocks, eating barnacles and mussels.  Then we followed him back down the beach for almost another 10 minutes. It was fantastic. Chalk another one up for Skiffy-a-saurus because this moment was only possible because of it.
Skiffy-a-saurus wins again.
"Say that's a nice skiff you have there!" – Grizzy admiring our Skiffy-a-saurus
Unfed – or – Whales Always Eat First
By Jeffrey Smith, Photos by Josh McInnes and Christine Smith
On the  David B we like to do what comes along. We do have a schedule like everyone else, but a lot of times we change it to respond to the moment. We don't want to miss anything.
Male Killer Whale in Endicott Arm
So that's why I was a little taken aback when I tried to help out another boat that was nearby so that they would see some orcas we had just spotted. When we find wildlife, especially something as cool as transient killer whales, I typically radio other boats that are nearby to make sure they'll get a chance to see too, (and hopefully repay the favor later). Then there's usually a radio discussion about how we can all maneuver so as not to be in each others view.
I politely, and a little excitedly made the call. Then the whales turned around, so we moved to follow them, I called again. All of our guests were out on the deck taking photos and loving the show. Josh McInnes, our guest naturalist and whale biologist was explaining what we were watching as it happened, play by play.
I finally made another call, because I wasn't sure if the other boat was uncertain of my intentions. They seemed to be staying a long ways away. Finally she explained what they were doing:
"We're going to be staying away from the whales for about another 20 minutes, because our guests are still eating breakfast."
What??? I was unable to believe. How unfortunate for those folks, because in 20 minutes the orcas might slip away. Our chef was out on deck with the whales. Our galley was unoccupied. We were with whales!
Over the next few minutes the pod slipped through a narrow passage, so we followed. Then they reversed course, and swam right past us, and caught an unsuspecting harbor seal right in front of us. It was amazing. There was even a brand new unknown calf in the group. We might have been the first humans to see it. We turned around and stayed with them for almost another 30 minutes.
75 feet away from Killer Whales Having Breakfast
The happy ending of the story is that they did finally join us watching the whales, and got to see some amazing breaching, a behavior that the transients do after a kill and after they're done eating. And we didn't miss any meals on the David B either. It was good for everyone
I love our ability to be unscheduled. We go where the wildlife is when it's there and happening. We actually saw the hunt, the capture and the kill. Food, for us, can wait. For the bigger boats, I understand, they need to be scheduled. But I really think our guests get a better trip.
Even if we are unfed.
Brand new Killer Whale Calf