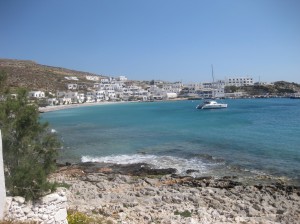 Christine and I just returned from Greece, where we were the captain and cook on a sailing yacht for a couple of weeks, and the trip made me realize just how good we have it on the David B. There were a lot of small things the yacht didn't have that really make our usual trips comfortable, and while I wouldn't trade our time in Greece for anything, I came away with a new appreciation of how well the David B is suited for our guests and our schedule.
The first issue was power. In this day and age, people need a lot of electrical power. Everything we all have now requires a charge. Cell phones, laptops, iPads, iPods, and sleep apnea machines all require charging or plugging in. Even most cameras and video recorders have rechargeable batteries that need some time at the wall plug. Our yacht in Greece, the Keros, didn't have a good system for all those electrical needs, but the David B does. It has 110V AC (household style) power throughout our vessel, with a convenient outlet located in each passenger stateroom and several in the galley. They are close to the sink in each cabin so an electric shavers or even a hairdryer is ok, and near enough to the bed that it would also work for a sleep apnea breathing machine. Charging up all those electronic devices is really easy too.
I also had to spend a lot of time thinking about our water consumption. The Keros only carried 600 L (about 157 US gallons) compared to the David B's 415 gallons. It wasn't a huge issue, because there was water at about half the islands we went to, but it was always on my mind. On the David B, we make our own water using reverse-osmosis. We take sea water and turn it into wonderful tasting, cool, pure water and we always have lots. It tastes better than the water at most of the ports we go to. We also have an on-demand water heater, which means you can take a shower at any time of day or night and the water's always nice and hot.
The biggest passenger comfort that seemed hard to find in Greece, however, were calm anchorages. There just aren't that many really good, protected anchorages in the Cyclades compared to the Inside Passage. There are a few, but we really didn't want to limit ourselves to the islands with great protection, so quite a few nights we rolled around in a swell, or surged noisily against our dock lines while tied to the dock. The places we got to see, because we were willing to forgo calm and quiet for location, were fabulously beautiful. It just wasn't like the calm spots we anchor on the David B.
Greece is beautiful, and cruising under sail was amazing. I loved taking people to places that none of us had ever seen (or even heard of) before. We felt like true explorers on our own version of The Odyssey. The wind blew against us at every turn (we think it had to do with angering the gods somehow) but we sailed to spots you could never go by any other means. We stopped at deserted island beaches and islands so small they only had a single monastery on them. We went to larger towns and small, and even met some of the locals, and their hundreds of cats. The white washed buildings with blue doors and shutters were just as I pictured they'd be, the locals much friendlier. We're already planning another trip, and we'd love to take you with us, but on this trip I really realized just how well the David B is suited for what we do.